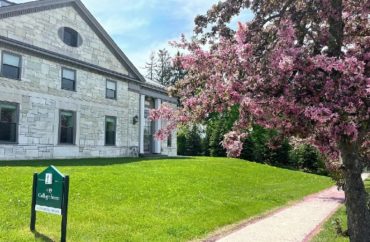 UPDATED
Denies all allegations 
The University of Vermont is currently under federal investigation for antisemitism, according to a Jewish advocacy group that initially filed a complaint.
"The Department of Education's Office for Civil Rights (OCR) announced it has opened a formal investigation into a complaint alleging Jewish students at the University of Vermont (UVM) have been subjected to severe and persistent anti-Semitic harassment and discrimination," the Louis D. Brandeis Center for Human Rights Under Law announced recently.
"Anti-Jewish incidents ranged from the exclusion of Jewish students from a campus sexual assault survivors' group, online harassment against Jewish students by a Teaching Assistant (TA), and the targeting of the UVM Hillel building," the group wrote in its news release. "OCR evaluates all complaints it receives, but it only pursues investigations in those it determines warrant a more thorough investigation." The center first filed the federal complaint in 2021.
The complaint alleged that "an environment of harassment and intimidation has existed at UVM for year, but it intensified a few months ago" when Zionist students were banned from a campus group called "UVM Empowering Survivors."
Students formed the group after "a mass walkout to demonstrate their dissatisfaction with the university's handling of of sexual assault allegations," and was created to "provide support for student victims of sexual assault."
University of Vermont officials denied the allegations that it had not addressed complaints of antisemitism. The media team referred The College Fix to a September 15 statement from the university.
The allegations from the Brandeis Center "painted our community in a patently false light," President Suresh Garimella stated.
MORE: Department of Education launches probe into USC for alleged antisemitism
"The uninformed narrative published this week has been harmful to UVM," Garimella wrote in her message to the university community. "Equally importantly, it is harmful to our Jewish students, faculty, staff, and alumni. There is no doubt that antisemitism exists in the world and, despite our best efforts, in our community."
"Exploitation of fear and divisiveness by advancing false claims that UVM failed to respond to complaints of antisemitic behavior creates confusion and a sense of insecurity for the entire community," the president wrote.
Garimella stated in her message that the university closed an investigation last year into allegations that a teaching assistant "made antisemitic remarks and threatened to lower the grades of Jewish students on their personal social media accounts prior to serving as a TA."
An alleged incident of rock throwing at the Hillel center on campus was not about hate, a university investigation concluded, according to the school's president. Rather, "the students who threw the small rocks at a window of the Hillel building were doing so to get the attention of a friend who was convalescing in the building while recovering from an illness."
Finally, the group "UVM Empowering Survivors" is not an official student club, but officials did remind the leaders about "university policies prohibiting discrimination on the basis of religion, national origin, or any other protected category."
Empowering Survivors did not respond to an Instagram request for comment sent from The Fix in the past week on its policy toward Zionists and its status as an organization.
"OCR can confirm that there is an open investigation into the University of Vermont under Title VI of the Civil Rights Act of 1964," the Department of Education stated in an email. "We do not comment on pending investigations."
Editor's note: Article updated with comment from the Department of Education.
MORE: Pro-life group will train 100 students at Israel conference
IMAGE: UVMHillel.org
Like The College Fix on Facebook / Follow us on Twitter