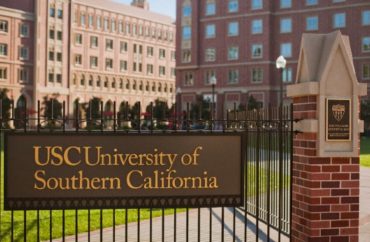 UPDATED
New investigation comes two years after controversy surrounding Jewish student leaders at USC
The Department of Education's pending investigation into antisemitism at the University of Southern California is "significant" according to a legal director for the center that filed the initial complaint.
"It is significant that OCR is opening an investigation into [ student government vice president] Rose Ritch's case because it concerns a form of anti-Semitism that is prevalent on campuses today across the country," Denise Katz-Prober, the director of legal initiatives for the Louis D. Brandeis Center, told The College Fix. "This form of anti-Semitism targets and seeks to marginalize and exclude Jewish students on the basis of their Jewish ethnic identity which is connected to Israel."
The investigation stems from a complaint filed by the Brandeis Center against USC back in 2020, after activists reportedly harassed several Jewish student leaders for allegedly making insensitive comments about race in the past or for their support for Israel.
The university's media relations team did not respond to a request for comment sent two weeks ago. USC has a page about "Addressing Antisemitism" that it updated on August 16.
Black and Palestinian student activists forced out three Jewish student government leaders in summer 2020, including one who is a lesbian and another female who is African-American and gay.
"Ritch was one of the first Jewish students to expose and bring public attention to this form of anti-Semitic discrimination, which is so prevalent on campuses today," Katz-Prober told The Fix.
She "articulated what so many Jewish students on campus have experienced and continue to experience, which is an intense pressure to shed or renounce the Zionist component of their Jewish ethnic identity to gain admission into social justice spaces and other activities on campus."
"Universities are misdiagnosing the issue and, as a result, failing to protect Jewish students from unlawful discrimination," the Brandeis center legal director alleged.
MORE: CUNY group wants Jewish students to 'unlearn' support for Israel
The College Fix reached out to Ritch via Instagram on Thursday morning but did not hear back. Isabel Washington, a black, pro-Israel student who is also lesbian, did not respond to an emailed request for comment.
"I got caught up in the midst of cancel culture and this is what had to come of it," Washington told The Fix in 2020. "Disagreements aside, the precedent that we are beginning to set across universities that being a Zionist (which is predominately Jewish students) makes you unfit for an elected position should be alarming."
"OCR can confirm that there are two open investigations into the University of Southern California under Title VI of the U.S. Civil Rights Act of 1964," an unnamed Education Department spokesperson told The Fix.
The other investigation involves "Racial Harassment" and "Denial of Benefits."
When asked about why it's important to highlight antisemitic episodes in the United States, Katz-Prober replied that it "is a form of unlawful discrimination, not a political debate" when "Jewish students, like Rose Ritch, are targeted for marginalization and exclusion from campus activities merely because they express pride in or support for the existence of a Jewish state in the Jewish people's ancient homeland."
Katz-Prober also explained that USC's failure to respond to antisemitic discrimination is not uncommon.
"University administrators often have had a difficult time recognizing anti-Semitic harassment and discrimination of Jewish students on the basis of their Jewish ethnic and shared ancestral identity," she wrote to The College Fix.
MORE: Pro-Israel group will train 100 students this summer
Editor's note: The article has been updated to note that The Fix reached out to Rose Ritch on the morning of August 18, not August 17.
IMAGE: Ganna Tokolova/Shutterstock.com
Like The College Fix on Facebook / Follow us on Twitter