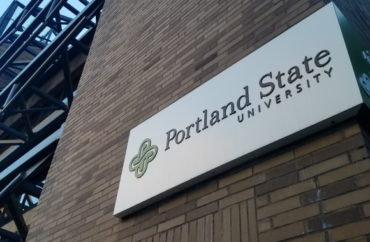 Portland State University will offer its pro-LGBTQ students cotton candy and coloring for a week to celebrate trans and gender-nonconforming students and provide support for those troubled by emerging legislation across the nation that seeks to protect female-only spaces.
A memo written by President Stephen Percy cites growing "anti-trans bills in legislatures across the country" and pledges to provide a "safe space for all members of the LGBTQAI+ community."
Although the memo does not explicitly state it, the safe space is likely a response to a visit by free-thinking scholars and gender critical activists to debate the issue of giving children puberty blockers and other medical procedures at Portland State University.
With that, the public institution will host "Trans and Gender Expansive Celebration and Community Hour" each day for a week from noon to 1 p.m. in its Queer Resource Center. On hand will be cotton candy, temporary tattoos and coloring, according to the memo.
The university will also host "T-Time" trans social spaces on Fridays as well as a Sexual and Gender Minority Youth Resource Center, described in the memo as a "safe, harassment-free space for queer and trans youth ages 13-23."
Portland State University President Stephen Percy indicates there will be no criticism of trans ideology allowed on campus.

Instead, "cotton candy, temporary tattoos, and coloring will be available" and expanded "Trans Days of Resistance" scheduled. pic.twitter.com/EmTGIWWbF3

— Michael Weingrad (@weingradmichael) April 29, 2023
The memo was widely panned by some observers, including former Portland State University Professor Peter Boghossian, a contrarian thinker and free speech proponent who urges more civil discourse and debate on campuses.
Boghossian was on campus on Wednesday to engage students on the topic of whether children can consent to puberty blockers.
"Student activists at @Portland_State attempted to disrupt our public conversations today. I am genuinely embarrassed for the activists and disappointed that they prevented students with sincere objections from engaging us," Boghossian tweeted.
He also posted a memo that mocked the notion of students either wanting cotton candy or engaging "'anti-trans' provocateurs."
— Peter Boghossian (@peterboghossian) May 2, 2023
The Queer Resource Center, in response to the free speech effort, alerted its supporters by stating in a memo that the "intention of these provocateurs is not to invite productive dialogue."
"Their tactic is to provoke students, faculty, and staff – record it and turn our community into clickbait material to be consumed by other folks with anti-Trans stances. These folks are trained to stay calm and within their rights to share their opinions on public property under the First Amendment. Legally, we cannot stop them. But we can ignore them and not give them what they want: a reaction from us and further polarization."
MORE: PSU queer center warns 'anti-trans provocateurs' may exercise 1st Amendment rights on campus
MORE: Portland State U. DEI summit includes 'white' and 'black' race-based tables
IMAGE: Pika Power / Shutterstock
Like The College Fix on Facebook / Follow us on Twitter