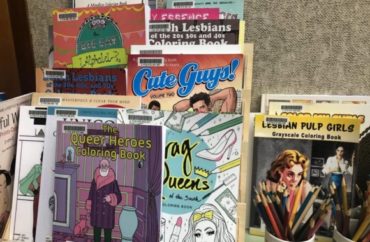 Adult coloring books in recent years have become all the rage as a stress reliever and a fun, creative hobby. And on college campuses, they've become props in universities' "safe space" rooms. But one university is taking things in a … different direction.
The Pitt Maverick reports:
The University of Pittsburgh's Arts Department is now offering students queer-themed coloring books in the Frick Fine Arts Library.

The books include "Drag Queens of the South" and "The Big Gay Alphabet Coloring Book." A series of coloring books on butch lesbians are also available, including "Butch Lesbians of the 20's, 30's, and 40's" and "Butch Lesbians of the 50's, 60's, and 70's."

Housed within the University Arts Library at Frick Hall, the coloring books are located along the back wall in the meeting rooms next to the "RESIST!" and "Lesbian Witchcraft" zines for interested students. Pitt provides colored pencils alongside the books for use.
Interestingly though, after the Maverick, a right-of-center student news outlet, reported on the coloring books — complete with pictures — the books were quickly removed from the shelves.
Frank Messina, editor in chief of the Pitt Maverick, told The College Fix via email the coloring books are still available despite their abrupt relocation.
"The University of Pittsburgh's Library System, known as PittCAT+, houses 435 different coloring books," he said. "Any of these books that are not available on campus are stored offsite. Students can make requests to the University Library and the books will be delivered to the main branch of Pitt's Library for pickup."
Read the Maverick's full story.
MORE: Colleges turn to coloring books to de-stress students
IMAGE: Courtesy of the Pitt Maverick.
Like The College Fix on Facebook / Follow us on Twitter