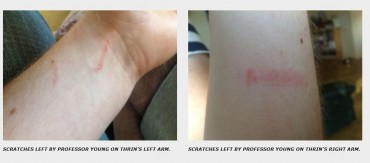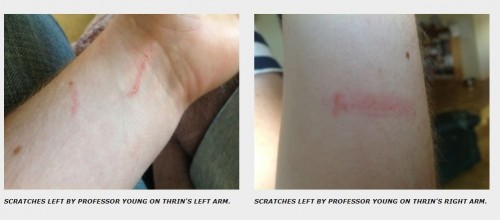 The College Fix previously reported the attack on a pro-life student at the University of California, Santa Barbara. A feminist professor attacked a teenage demonstrator, and the episode was caught on video.
Now, a statement released by UCSB vice-chancellor, Michael D. Young, shortly after the incident, has come to our attention. In the statement, which was released to students on March 19, Young ridicules pro-life demonstrators, calling them "evangelical types," "self-proclaimed prophets," and "anti-abortion crusaders."
The peaceful pro-life demonstrators were subjected to an unprovoked attack by feminist studies professor, Mireille Miller-Young. But the vice chancellor insults the demonstrators as "proselytizers hawking intolerance" and peddlers of "fear," "hate," "intolerance," and "discord" at UCSB.
Nowhere in the memo does vice-chancellor Young condemn the violent actions of his faculty member, Professor Miller-Young, which left the arms of a 16-year old girl covered with scars and abrasions.
Instead, the vice-chancellor praises himself as one known for fighting on behalf of "tolerance." He touts his long record of speaking at "anti-hate events" and officiating at a "Queer wedding." Contrast that to the pro-life demonstrators who, the vice-chancellor says, come "wrapped in intolerance and extremism."
With no apparent sense of irony, vice-chancellor Young reiterates his strong commitment to free speech. He directs all his criticism toward the pro-life demonstrators, and none toward the intolerant, hateful and violent liberals who attacked them.
Apparently, "intolerance" at UCSB has a special meaning–and it covers any point of view that falls outside the extreme liberal groupthink of academia. If you are pro-life, you are considered intolerant. If you hold traditional religious views you are intolerant. On the other hand, if you physically attack a pro-life student, you are probably considered a noble and excellent person who simply took the struggle for good a little too far.
Is that about right, vice-chancellor?
Does the 16-year-old girl, Thorin Short, whom your professor injured and attacked, fall into the category of the the "peddlers of hate," simply because she believes abortion ends and innocent life? And does your own feminist hit squad remain safely within your designation of the tolerant and good no matter whom they attack?
It sure looks that way.
Read vice-chancellor Young's full statement and decide for yourself.
In contrast to the opinions of Mr. Young, we'd like to draw reader's attention to the words of Catherine Short, mother of the girl who was attacked, and Legal Director of the Life Legal Defense Foundation. She had this to say about the attack on her daughter and the university's response:
"In early March 2014, my daughters Joan and Thrin, along with several friends, went to the University of California at Santa Barbara to conduct a pro-life outreach. While there, they were accosted by UCSB professor Mireille Miller-Young.

We are confident that the legal process will establish, without room for doubt or equivocation, that Miller-Young was the aggressor throughout her encounter with the pro-lifers. The pro-life speakers did not taunt, provoke, or incite either Miller-Young or anyone else, as some have suggested. On the contrary, they made every effort to meet her provocations, taunts, mockery, and profanity with calm and reason, trying to move her into a more productive channel of discourse…

We encourage UCSB Vice-Chancellor Michael Young to observe a pro-life outreach, whether conducted by my daughters and their friends, a Survivors of the Abortion Holocaust campus team, Justice for All, Project Truth, or UCSB's own pro-life organization. If he does, he will not see any pro-life person 'provoking', 'taunting', or 'peddling hate and intolerance', as he described in an e-mail to UCSB students following the incident. What he will see is individuals trying to reach the minds and win the hearts of others by employing facts, reason, discussion, and persuasion – exactly the type of 'exchange of ideas' that he said 'is fundamental to the mission of [the] university.'"
Read Catherine Short's complete statement here.
In view of all the events of the past few weeks, one can reasonably come away with no other conclusion but that the strongholds of intolerance at UCSB have little to do with so-called "evangelical types," upon whom UCSB's Michael D. Young seeks to place blame. Instead, at UCSB, intolerance thrives among feminist professors and senior administrators who believe that, ultimately, a liberal-progressive point of view and intent justifies any action, even, as in this case, a physical attack. Or, at least, it shields the liberal who carries out that attack from any criticism.
All the criticism, as usual, is reserved for those who dare to hold pro-life views, and who dare to utter those views aloud.
Nathan Harden is editor of The College Fix and author of the book SEX & GOD AT YALE: Porn, Political Correctness, and a Good Education Gone Bad.
Follow Nathan on Twitter @NathanHarden
Like The College Fix on Facebook / Follow us on Twitter