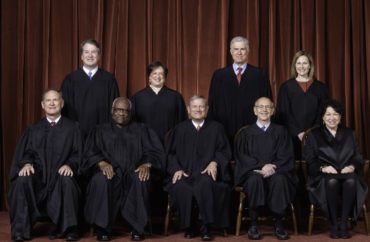 Many university presidents, in emails to their campus communities concerning the Supreme Court decision to overturn Roe v. Wade, have framed the debate in a way that clearly indicates their disapproval of the ruling.
And what's more, they often employed extreme and divisive language in their campuswide memos.
"The decision striking down Roe doubled down on … the language of a minority of right-wing, religious ideologues," Michael Roth, president of Wesleyan University, stated.
"Women will no longer have a right to terminate a pregnancy because such a right is not 'deeply rooted in this Nation's history and tradition,'" Roth continued. "Only such rights will be protected. Who gets to decide which ones count? Apparently, it will be the ideologues whose selective reading of the past, public safety and ethics will enable them to find in history whatever they need to justify their current positions."
University of Oregon President Michael Schill stated: "This ruling is extremely distressing for many members of our community who see reproductive rights and protections as central to human rights. It also may threaten other rights that many of us have come to rely upon."
Carnegie Mellon University President Farnam Jahanian argued the ruling will hurt women.
"As the nation absorbs this decision, we recognize its significant impact on women's healthcare and reproductive rights, especially for those who come from disadvantaged communities or who live in states where legal access to abortion is likely to be restricted further," Jahanian's memo stated.
"At CMU, we take seriously the value of safe and equitable access to healthcare, including reproductive care and resources, knowing that our students, faculty and staff depend on these vital services for various reasons."
Evergreen State College President John Carmichael decried the ruling as a blow to "gender justice."
"Reproductive rights are clearly an issue of gender equity, dignity, and privacy. Denying women, trans, and non-binary people the right to safe abortions puts their health at risk, but also impacts their sovereignty, economic freedom, and life opportunities," he stated in his email.
"Moreover, decisions to deny rights that have existed for decades and that are supported by the majority in this country (70%) are an attempt by the minority to control the majority, erode our democracy, and set us backward in the struggle for gender justice."
University of Washington President Ana Mari Cauce called the ruling "profoundly distressing."
"This ruling ushers in dramatic changes to reproductive freedom and access to abortion, rights that have for decades been largely understood as settled law in our country," she wrote in her campuswide memo.
"It is profoundly distressing and concerning for many members of our community, including myself, and raises equally troubling concerns about what this may mean for other human rights that we believed were established and inviolable. …This ruling represents a significant rollback of women's right to make their own decisions about their health care and many of us believe that it profoundly undermines a basic human right to bodily autonomy."
MORE: Universities in 'blue states' to continue to cover abortion in health care plans, train med students on procedure
IMAGE: U.S. Supreme Court
Like The College Fix on Facebook / Follow us on Twitter