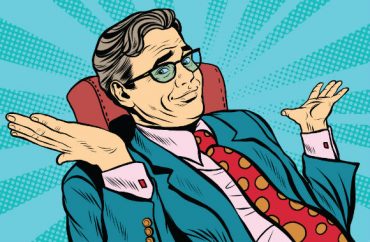 Suddenly media celebrities, epidemiologists have an incentive to give alarmist projections
When the coronavirus theory doesn't fit the facts on the ground, the latter must be wrong.
The University of Washington's Institute for Health Metrics and Evaluation, which owns HealthData.org and has been cited by the Trump administration, is getting called out for promulgating COVID-19 projections that turn out to be far too high.
The institute's projections are treated as the gold standard by several American hospital systems and state governments, according to its website, which warns that the demand for "ventilators, general hospital beds, and ICU beds" are "expected to exceed capacity."
Yet it overestimated by four times how many hospitalizations would happen in New York State on one day this week, already accounting for the "lockdown" in the state, according to former New York Times reporter Alex Berenson, who has been picking apart the models used to predict COVID-19 trends on his Twitter feed.
He questioned the integrity of analysis given by epidemiologists who suddenly find themselves media celebrities and get more attention for making ever-more alarmist projections. Berenson has also been feuding with a UW biology professor, Carl Bergstrom.
This is the @IMHE_UW model for #Covid_19, the new US standard. It was put out SIX days ago (post lockdown). It projects New York State will have 50,000 hospitalizations TODAY. Instead NYS has 12,000. Wrong by 4x in under a week. What on earth are we doing? https://t.co/zdRwaS4UJr pic.twitter.com/bRroolmKgw

— Alex Berenson (@AlexBerenson) April 1, 2020
8/ Except, suddenly, the hospital beds aren't filling. The models are wrong. Not in a month or a year, but within days. Just flat wrong. The tide is rolling out now, faster than you could have imagined. You don't even understand what's happened, what's happening.

— Alex Berenson (@AlexBerenson) April 2, 2020
The Federalist co-founder Sean Davis noted similar overestimation on a national level, saying the UW model is using New York and New Jersey data – the epicenter of the epidemic – "and applying it to the rest of the U.S."
This "garbage" model estimated 121,000 hospitalizations Wednesday, about four times higher than the actual number, he said, delving into more wild divergences between projections and results state-by-state. Tennessee and Texas projections were particularly off, at 11 and nine times higher than actually resulted, while Virginia's was the closest at only two times higher.
MORE: Stanford epidemiologist warns coronavirus crackdown based on bad data
Let's look at some state data. The IMHE model predicted that 1,716 people in Texas would have been hospitalized yesterday due to the Wuhan coronavirus. The actual number of hospitalized Texans? 196 people. pic.twitter.com/1YCLKP6TJb

— Sean Davis (@seanmdav) April 2, 2020
In Tennessee, the IMHE model predicted that 2,214 people in Tennessee would have been hospitalized by yesterday due to the Wuhan coronavirus. The actual number? 200. pic.twitter.com/r1kP5u4TeH

— Sean Davis (@seanmdav) April 2, 2020
"If we're going to shut down the entire nation's economy to 'flatten the curve' based on the projections of a single model, it shouldn't be too much to ask that the model approximate reality when it comes to hospitalizations," Davis tweeted.
The institute patted itself on the back Thursday for its model accurately "predicting daily deaths a week later." While it doesn't appear to have responded to criticism directly, it also said Thursday that it had been updating its model "based on new or more accurate data and improved methods."
Over the last week, we've been updating our COVID-19 model daily based on new or more accurate data and improved methods. See how our estimates have changed over time: https://t.co/7pP4lYs0hI pic.twitter.com/o6w1r0BCrw

— IHME_UW (@IHME_UW) April 2, 2020
The media contact for the institute, Dean Owen, has not responded to a College Fix query Wednesday afternoon about criticisms of its far-off projections.
Follow Berenson, Davis and the institute on Twitter.
MORE: Mass coronavirus testing is cheaper and better than lockdown
IMAGE: studiostoks / Shutterstock.com
Like The College Fix on Facebook / Follow us on Twitter