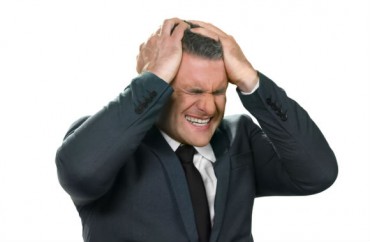 Law professor criticizes administration for kneecapping student defense
Two decades after its last full review of the student conduct code, George Washington University has approved sweeping new rules for student behavior.
One of them: punishment for "verbally abusing" campus officials and "behaving in a lewd or indecent manner."
Civil libertarians and a GWU law professor are wary of many of the new regulations, calling them vague, incomplete or inconsistent with other policy.
The 30-page update includes changes to how students may protest, requirements for due process in campus adjudications, and even how it refers to students: "Binary" pronouns have been replaced by "they, their, and theirs." The Statement on Student Rights and Responsibilities takes up about a third of the revision.
Officials at the private university previewed the work last fall and made a few immediate changes, according to The GW Hatchet. One of them was an explicit ban on recording in classrooms unless faculty give their own students prior permission.
The Office of Student Rights and Responsibilities held meetings to get feedback from students and faculty, though the Hatchet reported that only seven students attended five "listening sessions." OSRR then created a committee that met for 10 weeks before proposing updates to the Board of Trustees.
The updates were finalized on May 17 and are scheduled to take effect July 1. They do not apply to sexual misconduct or academic fraud, which are each governed by their own code.
John Banzhaf, who teaches public interest law at GWU, told The College Fix the update has parts that are "good, and parts which are bad or at least questionable."
One of his unique concerns: that the code revision may embolden the sort of anonymous activists that occasionally menace the university, which sits four blocks from the White House.
'Ground zero for DC-based demonstrations'
The Foundation for Individual Rights in Education praised some of the updates while expressing concerns about others.
Laura Beltz, senior program officer for policy reform, noted that students are finally allowed to "engage in spontaneous gatherings on campus." She told The Fix in an email that was a "great step for GW."
But she pointed out that the demonstrations policy, which hasn't been updated in more than two years, does not line up with the code update. That policy should also make explicit that students "may use outdoor areas for demonstrations without obtaining prior permission," Beltz wrote.
MORE: Conservative whistleblowers silenced by GWU's recording ban
Officials could censor, chill and punish student expression under the new restrictions on "verbally abusing university officials" and lewd and indecent behavior, she said. These vague terms could be used against both "legitimately disruptive conduct" or "subjectively abusive" speech.
Banzhaf believes the looser protest policy is a "good move" as well. But the law professor told The Fix in an email that it should specifically prohibit "the carrying of any torches or weapons," or face coverings "except perhaps at Halloween," during demonstrations.
"GWU has become ground zero for DC-based demonstrations by many protestors," Banzhaf (below) continued. There is no policy right now that "would prohibit marked or hooded persons (who may or may not even be students) from marching through our campus with lit torches…and/or weapons."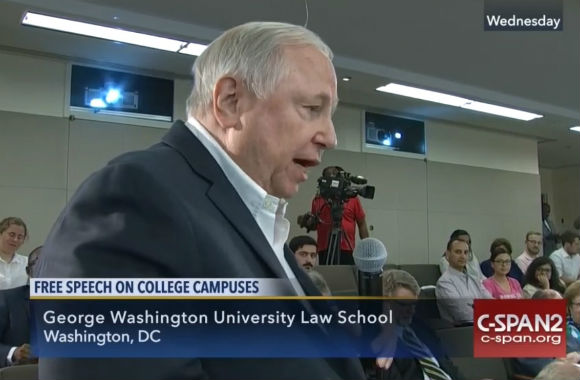 Student-provided evidence still held hostage to one administrator
Disciplinary adjudication rules have largely not improved, according to Susan Kruth, senior program manager for legal and public advocacy at FIRE.
The new option for students to appeal rulings "based on procedural error is certainly a good step," she wrote in an email. So is the disappearance of an old provision that banned complainants from providing witnesses, even if it was relevant to the case.
But Kruth faulted the university for guilt-presuming rules that are unavoidable under its new "single investigator" model, where one official acts as judge, jury and prosecutor. It had previously switched its Title IX system to the single-investigator model.
"[T]he burden of proving misconduct ultimately should be on the university and the respondent shouldn't be required to testify," she said. All parties should have "opportunities to present evidence and question witnesses and each other in front of fact-finders."
The revised code doesn't give confidence that both parties will get the same opportunities to present their evidence, Kruth wrote. She noted that the presentation of evidence is still "in the sole determination of the [OSRR] Director or designee."
MORE: Banzhaf blasts GWU for playing down violent threat against conservatives
The single-investigator model increases the risk of biased proceedings and incorrect findings, Kruth said:
It does not allow for cross-examination. It also does not allow parties to see evidence as it's being presented to the fact-finders, hindering their ability to most effectively rebut that evidence. Further, in a live hearing, many individuals playing different roles can provide checks and balances when someone makes an error or when bias (conscious or unconscious) seems to be affecting someone's behavior or reasoning. In contrast, an investigator handling a case alone may make errors or be swayed by bias without anyone else there to point it out.
Prof. Banzhaf called the revised code "inconsistent and very insensitive" with regard to lawyers in disciplinary adjudications.
Under the revised code, "Legal representation is not permitted in any proceeding or meeting," and lawyers who serve as advisors "may not act in the role of" a lawyer.
This is a nonsensical statement, Banzhaf told The Fix: "Almost certainly any good attorney under such circumstances would advise the student of his rights, suggest questions, comments, or objections he should raise."
These are the "very essence of legal representation," and are particularly needed when GWU marshals its professional resources against a student, he explained:
It is hard to see how a frightened 18-year-old student, charged with a serious offense which could lead to his expulsion and thus the end of his college career, can reasonably be expected to defend himself […] especially when faced with senior faculty members, probably including at least one law professor.
Student organizations don't have authority over their own members?
Christy Anthony, OSRR director, emphasized to the Hatchet that the revised code offers "restorative justice" rather than just punishments for code violations.
Letting complainants participate throughout cases furthers the cause of "reconciling conflict between students" and repairing the harm to both community and "the person who violated policy," she said.
Another change: Student organizations have to "consult with or obtain the approval of" administrators before they rule on cases.
FIRE's Kruth told The Fix she was not "completely sure I understand what the university allowed before" this policy change on student organizations, "or what it's prohibiting."
If a student allegedly violates a student organization's policy, as opposed to a university policy, then "deference to the organization's decision-making would be consistent with principles of freedom of association," she said. If GWU wants to deny its students freedom of association, "its policies must be clear on that point."
MORE: GWU orders Palestinian flag removed from student's room
IMAGE: DenisFilm/Shutterstock, C-SPAN screenshot
Like The College Fix on Facebook / Follow us on Twitter