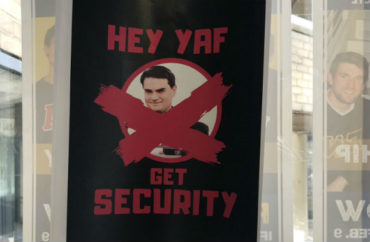 Investigates nonthreatening speech with no hesitance, however
John Banzhaf has spent years denouncing his employer, George Washington University, for investigating its students for their free speech.
But it was the private university's refusal to condemn posters that threatened physical violence against a conservative pundit that really set off the law professor last week.
"GWU Silent and Impotent Over Free Speech Intimidation," Banzhaf titled an email blast, referring to the Young Americans for Freedom event featuring Daily Wire editor Ben Shapiro.
Hours before the Jan. 17 event, posters appeared around campus that read "Hey YAF. Get Security," with a red "X" over a picture of Shapiro.
Banzhaf, who teaches public-interest law and pioneered anti-smoking litigation campaigns, contrasted the university's quickness to investigate offensive speech with its hands-off approach to the anti-Shapiro flyers.
No one has taken responsibility for posting the flyers, which were "clearly threatening unlawful physical violence" towards Shapiro and the YAF chapter in an attempt to get the event cancelled, he wrote.
For the moment, Banzhaf has no plans to translate his virtual activism against GWU into concrete action within the university, he told The College Fix in an email.
"It is said the sunlight is the best disinfectant, so shining the light on situations where a university yields to mob pressure and ignores fundamental rights might tend to deter similar actions at GWU and elsewhere in the future," Banzhaf wrote.
The YAF chapter appreciates Banzhaf's support and would like to see a "statement of unity and support" from the administration, "but sadly that is too much to ask from a liberal institution like GW," Co-President Kara Zupkus told The Fix in a Facebook message.
In contrast to Banzhaf's portrayal of GWU as getting steadily worse, the Foundation for Individual Rights in Education believes the university's speech policies are getting better.
During its annual review of GWU's speech-code rating, completed last month, the civil liberties group found the university had revised its policies enough to raise its rating, Laura Beltz, senior program officer for policy reform, told The Fix in an email.
MORE: Banzhaf blasts GWU's revamped 'anonymous snitch program'
Campus authorities are dismissive of this threat against YAF, reportedly saying it's "most likely not a threat according to DC code." Looks like @GWtweets is another school that treats microaggressions as dire but refuses to take seriously threats against conservatives. https://t.co/4szfG2uD6Q

— YAF (@yaf) January 17, 2019
'Not even a brief statement – much less a strong condemnation'
Banzhaf frequently sends email blasts to the media commenting on legal issues of the day, and occasionally turns his attention to happenings at GWU. For example, he warned sororities recently that they were coddling potential members by giving them coloring books, and in turn weakening the future crop of female lawyers.
But when an administrator responded to the anti-Shapiro flyers, saying campus law enforcement "does not see a threat" (below), Banzhaf blasted off a list of the university's swift investigations of speech that did not threaten physical violence.
When a Snapchap photo went viral a year ago that showed a female student holding a banana peel, captioned "Izzy: I'm 1/16 black," the administration's response was "swift and dramatic," the professor wrote last week.
Banzhaf noted "a formal university investigation was launched, the students involved were expelled from their sorority, and GWU's student codes regarding discrimination and inclusion were rewritten."
GWU President Thomas LeBlanc also mandated diversity training for incoming freshman "as a direct result" of the photo, and set up a system for students to "complain anonymously" about "forms of unwelcome conduct, presumably including so-called microaggressions," Banzhaf said.
That system enabled a complaint against a student who "reportedly uttered the single word 'Jew'" in a private conversation, he said. Another student was "immediately suspended and kicked off campus" – and referred for a hate-crime investigation – for displaying an ancient religious symbol that another student mistook for a swastika, the professor noted.
Other incidents he shared with The Fix: the university's threat to a student who hung a Palestinian flag in his window and its criminal investigation of flyers that recommended turning over undocumented immigrants to authorities.
MORE: GWU rolls over to mob demands in response to banana-peel photo
I believe in the value of free speech, respectful dialogue & civility. GWPD does not see a threat & will be at the event. I respect student's having the choice to bring Ben Shapiro. Having voted for both parties,I am gr8ful for freedom of choice. #GWTweets #forallstudentvoices

— cissy petty (@cissypetty) January 17, 2019
Meanwhile, the threatening anti-Shapiro posters "are not even criticized by GWU," he wrote in the email blast:
It is shocking, but unfortunately not at all surprising, that a clear threat to cause physical harm to a speaker, and to those who invited him to our campus, and which was distributed all over our campus, has elicited not even a brief statement – much less a strong condemnation and a promise of an investigation followed by appropriate discipline – when GWU's response to other events which were insulting at most, and which occurred either off campus or in a private conversation – involved a formal response and strong condemnation.
Were it a liberal organization that received such threats, the university's YAF chapter believes the administration would have taken them more seriously.
YAF's Zupkus told The Fix the group has been attacked before "and the university has done little to address the constant harassment." She did not respond to multiple requests for specifics about how the school has treated YAF in the past, though more than a year ago the university launched an investigation when someone made anti-Muslim flyers attributed to the YAF chapter.
The university did not answer an email from The Fix Jan. 23 seeking comment on Banzhaf's criticism. When The Fix reached the media relations office two days later on the phone, an unidentified person said it would "look into the situation." GWU has not responded since then.
The Foundation for Individual Rights in Education is more sanguine about the university following the past year's policy revisions.
GWU's lone "red light" policy that "clearly and substantially restricts" free speech was changed "to include a definition that much more closely tracks the Supreme Court's peer harassment standard," Beltz told The Fix. Its revised sexual harassment policy also "better tracks the Supreme Court's harassment standard."
As a result, FIRE raised GWU's rating to "yellow light," meaning its policies restrict some expression or are vague enough to restrict expression. "FIRE is pleased to see these positive policy changes, and hopes GW will continue to revise the rest of its 'yellow light' rated policies," Beltz said.
MORE: GWU drops attack on student who posted Hindu symbol
When you're so scared of a Conservative speaker that you threaten a student organization? What is wrong with people? Maybe @benshapiro will tell us tonight! We are not intimidated by leftist bullies. @yaf pic.twitter.com/dbxISLSLhR

— GW YAF (@GWYAF) January 17, 2019
'When clear violations occur under their noses, they generally do nothing'
Banzhaf's reluctance to try to change GWU policy and culture from the inside is part logistics and part resignation.
He's not teaching this semester and doesn't plan to be on campus, so it is "very difficult to try to do the kind of person-to-person lobbying" needed to advocate in the Faculty Senate or start a petition to deal with his frustrations, as did Williams College faculty last fall, he wrote in an email.
He also believes, due to experience, that such efforts would "futile." Banzhaf isn't aware of any of his peers speaking out when the Shapiro incident happened, and "when similar incidents occurred in the past, nobody seemed to care."
The professor is particularly critical of his fellow law colleagues. Many of them "write learned articles and give speeches on the need to protect such rights," Banzhaf told The Fix. "But when clear violations occur under their noses on our campus, they generally do nothing."
He cited a 2016 law school panel discussion on "the contested boundaries of free speech," covered by C-SPAN, where Banzhaf confronted his colleagues for not defending free speech on their own campus (below).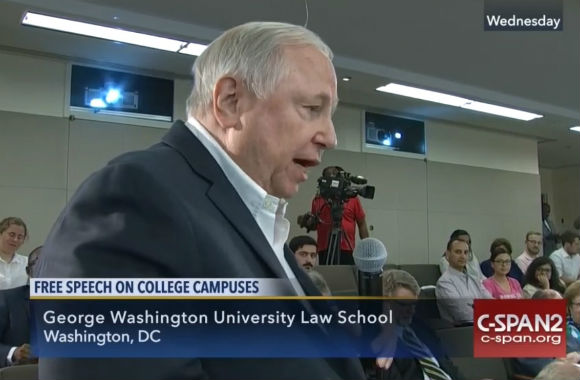 Prof. Catherine Ross admitted she does not read The GW Hatchet, the school's paper, and was not aware of two of the three incidents Banzhaf shared. He said he sent emails about all the incidents he mentioned "to all of our law school faculty."
Frederick Lawrence, former dean of the law school, said he would "not respond to specific examples." Instead, he said his approach was to "start with a full-throated defense of free expression," and then suggest "where I think there are limits on that right" or a person "ought not" exercise that right.
The law school's associate dean for public interest law, Alan Morrison, has not responded to a Jan. 23 email asking what he thinks of the university not condemning the anti-Shapiro flyers.
"The problem is that college administrators have become overly sensitive to organized groups" that can complain effectively and gather a following, Banzhaf told The Fix, "especially when there are no groups such as a faculty senate to provide countervailing pressure."
MORE: GWU finally apologizes for threatening student for Palestinian flag
IMAGES: GW YAF/Twitter, C-SPAN screenshot
Like The College Fix on Facebook / Follow us on Twitter