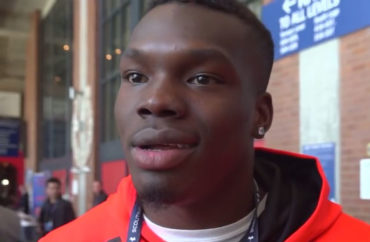 'MSU agrees there were certain issues' in his investigation
Keith Mumphery is trying to resurrect his NFL career after Michigan State University destroyed it. At least he'll have some money to start over.
Public records obtained by ESPN show that the taxpayer-funded institution paid its former student $725,000 to drop his lawsuit alleging violations of due process and Title IX. It also paid his accuser $475,000 to drop her suit alleging that MSU "did not provide her adequate support services and failed to enforce a campus ban."
The university all but admitted it botched the investigations into Mumphery, whom it initially exonerated but then convicted after his accuser appealed:
The May 20 settlement documents state that "MSU agrees there were certain issues in the Title IX investigation, that, under the particular circumstances of this case, may warrant a new investigation and/or hearing." …

MSU spokeswoman Emily Guerrant said the university could not comment on the terms of the settlement agreement or what was meant by "certain issues."
MORE: Mumphery plans his NFL comeback after MSU settlement
The university tried to hide the settlement amounts from ESPN, but the network argued MSU had no authority to do so as a public institution under state public records laws. The parties didn't even know what the other got from MSU in their settlements.
According to Brooklyn College Prof. KC Johnson, who chronicles Title IX litigation, it would be the largest public settlement amount for an accused student.
ESPN: Keith Mumphery rec'd $725k in MSU settlement; if so, would be the largest public settlement $$ for acc'd student. Also, damning statement from MSU spox implying school hadn't shown much interest in "fair process" for acc'd until CA6 ruling.https://t.co/bK4KbkuxAh pic.twitter.com/6zXJFAJd2U

— KC Johnson (@kcjohnson9) July 10, 2019
Mumphery is only allowed to say that "the findings of the Title IX investigation have been set aside" under his settlement. Neither party is allowed to "make any public statements regarding the facts underlying MSU's Title IX investigation" or each other's lawsuits that would disparage another party.
The former football player was cut by the Houston Texans shortly after his 2016 expulsion from MSU was reported. MSU reopened his case without confirming that he knew it had been reopened, simply emailing him at an address he no longer checked, and convicted him in absentia.
Mumphery claimed his accuser, a fellow student he met on Tinder, tried to lure him into unprotected sex. When he refused to have sex without a condom, she started arguing with him, and he left out of fear that the white woman would call the police on him, a black man.
ESPN reports that because of his settlement, Mumphery would likely not be able to participate in a class-action lawsuit his lawyer recently filed against MSU on behalf of more than 50 accused students.
MORE: MSU hit with class-action suit for due process violations
IMAGE: MSUSpartanAthletics/YouTube
Like The College Fix on Facebook / Follow us on Twitter