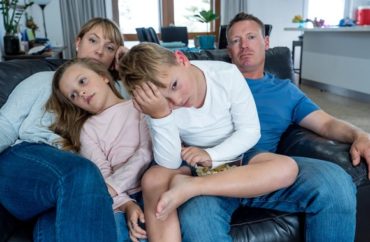 'Only a single outbreak in an outdoor environment'
#StayHome? Not if you want to avoid infection by the novel coronavirus.
Interdisciplinary researchers from the University of Hong Kong and China's Southeast University and Tsinghua University reviewed case reports from 320 municipal health commissions in China, as well as health authorities in Hong Kong, Macao, and Taiwan, between Jan. 4 and Feb. 11.
The total was about 7,300 cases that were detailed enough to analyze. The data unfortunately had some large gaps: Beijing, Shanghai, and Guangzhou were left out because of "insufficient case descriptions."
Researchers found a lopsided source of "outbreaks," defined as three or more cases seemingly linked to the same infection venue: Four in five happened within the home. The safest place to be is apparently outside, with only one outbreak reported in an open-air environment. (Important caveat: more than one venue was determined to be involved in about a quarter of outbreaks.)
According to the abstract:
Three hundred and eighteen outbreaks with three or more cases were identified, involving 1245 confirmed cases in 120 prefectural cities. We divided the venues in which the outbreaks occurred into six categories: homes, transport, food, entertainment, shopping, and miscellaneous. Among the identified outbreaks, 53.8% involved three cases, 26.4% involved four cases, and only 1.6% involved ten or more cases. Home outbreaks were the dominant category (254 of 318 outbreaks; 79.9%), followed by transport (108; 34.0%; note that many outbreaks involved more than one venue category). …

All identified outbreaks of three or more cases occurred in an indoor environment, which confirms that sharing indoor space is a major SARS-CoV-2 infection risk.
MORE: Stanford epidemiologist finds low COVID fatality rate even in 'hotbeds'
2/ Of more than 7,000 infections across China (including single infections or clusters or two the researchers found only TWO occurring outside. Home outbreaks and public transportation accounted for nearly all clusters. Shopping and entertainment accounted for only seven each. pic.twitter.com/53lIcFjJXu

— Alex Berenson (@AlexBerenson) April 16, 2020
The full paper explains that they identified 318 outbreaks in 120 cities, with 1,245 infected individuals. Roughly 40 percent involved either "only family members" or "family relatives." Less than 10 percent each involved either "socially connected individuals" or the "socially non-connected."
The significance of "indoor environments" as infection hotspots "has not been well recognised by the community and by policy makers," write Hua Qian, Te Miao, Li Liu, Xiaohong Zheng, Danting Luo and Yuguo Li, who work in the universities' schools of public health, environment, mechanical engineering and architecture:
The emergence of homes as the most common COVID-19 outbreak venue in China is not surprising. During the COVID-19 epidemic in mainland China, homes became temporary quarantine places. Our estimated home dominance of 79·9% is close to the official estimate of 83% of the so-called household clusters among the nearly 1000 clusters (not outbreaks) defined by the China National Health Commission. After Wuhan announced its city lockdown on 23 January, the warning message spread throughout the country. People in provinces outside Hubei also began to stay at home. Most Chinese families have one child, and some families may also include grandparents. The relatively low number of cases in these home outbreaks might be considered an advantage of compulsory home quarantine because transmission was limited to the small number of family members.
The authors acknowledge their data are inevitably shaped by focusing on China, which implemented "very strict intervention," and they have no way to independently vet the reliability of each local authority's case reports. (This is China, after all.) They didn't try to visit any infection venue or identify "the details of each of these indoor spaces."
But the study is still useful evidence to whip out any time a busybody tries to shame you for being outside without a mask.
Read the abstract and full paper.
MORE: University scientist argues there is no 'pandemic' to stop based on the data
IMAGE: Sam Wordley/Shutterstock
Like The College Fix on Facebook / Follow us on Twitter