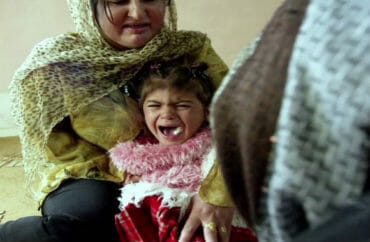 UPDATED
Administration fights proposed state law, saying it's cleaned up its act
Universities sometimes discriminate against student groups that want to host events that officials consider unbalanced – say, a pro-life event that doesn't invite participation from a pro-choice speaker.
Ahead of a hearing tomorrow on a bill (HB-1073) that would protect free speech rights on South Dakota's public campuses, it's been revealed why the University of South Dakota blocked the screening of a film in 2015 that documents brutality against Muslim women: It wasn't balanced.
The Argus Leader reports:
Although the earlier showing was canceled, according to an email sent by USD Provost Jim Moran at the time, another showing was scheduled for a women's conference on April 10.

"The University of South Dakota supports free speech and robust discussion of controversial topics in a setting that offers respect to all involved," Moran wrote in the April 2, 2015 email. "The earlier showing of 'Honor Diaries' was cancelled because the format and setting did not allow for appropriate discussion following the screening.  Whenever USD hosts speakers or films that are controversial the goal is to promote education and better understanding of the people and issues involved."
The USD professor who wanted to screen Honor Diaries at that women's conference also faced intense pressure, both locally and nationally, to cancel it in the name of Muslim sensitivity:
[Original conference founder Cindy] Struckman-Johnson said she's never seen this amount of pressure being exerted by students, staff and other faculty members to force [women and gender studies coordinator Miglena] Sternadori to cancel the film.

"I'm just absolutely stunned," Struckman-Johnson said. "I just couldn't believe it. I couldn't believe that a chair of a committee would be literally bullied. They kept saying, 'It's not censorship,' and we kept saying, 'Yes it is.'"
The school's rationale then for the unexplained cancellation of the earlier screening, which Struckman-Johnson called "stealth repression," was that the administration wasn't "best prepared to show it and facilitate conversation and things like that."
MORE: Colorado State discriminated against pro-life event: not 'unbiased'
'Making a request or plea' is still heavily restricted at USD
The taxpayer-funded institution insists there's no need for a state law protecting students' rights because it recently updated its free-speech policy – the same argument being used by opponents of similar legislation in Nebraska. Now the entire campus is allegedly open to free speech.
USD still has the worst overall speech-code rating from the Foundation for Individual Rights in Education, owing to its policies on "cultural insensitivity and bullying."
Just this week FIRE revisited its ranking for the university's "solicitation" policy, leaving it a "yellow light," which means it restricts a narrow range of expression or is worded vaguely. A spokesperson told The Fix the yellow-right rating goes back to May 2015. (The policy limits "making a request or plea" to one small area and requires students to get permission first.)
HB-1073 supporters aren't buying the school's last-ditch effort to convince students they don't need statutory protections because of the university's newfound benevolence:
"What happened at USD is happening nationally," said Rep. Michael Clark, a Hartford Republican sponsoring the bill. "I'm trying to head it off before it becomes a big issue here."
MORE: Honor Diaries creator: Islamophobia industry exploits white liberal guilt
Like the Nebraska bill, the South Dakota bill designates outdoor areas as a "public forum" and protects "all forms of peaceful assembly, protests, speeches and guest speakers, distribution of literature, carrying signs, and circulating petitions."
It allows "counter demonstrations" that are lawful and do not "materially and substantially prohibit" the expression of others or disrupt "the functioning" of the college.
Any restrictions must be "narrowly tailored," serve a "significant institutional interest" and "employ clear, published, content, and viewpoint-neutral criteria," as well as allow for "ample alternative means of expression" and the right to "spontaneously and contemporaneously assemble and distribute literature."
Opponents include the South Dakota Civil Liberties Union, which like its national organization has withdrawn from free-speech fights since last summer's Charlottesville riot.
Long history of hostility toward pro-women film
In order to cancel the Honor Diaries screening in 2015, the administration had to veto the campus activities board. The film documents "honor killings, forced marriages and genital mutilation" against women in predominantly Muslim countries in the Middle East.
Muslim activist groups including the Council on American-Islamic Relations have sought to tank campus screenings of the film elsewhere, calling it Islamophobic.
The University of Michigan-Dearborn and University of Illinois canceled screenings in 2014, and Honor Diaries creator Raheel Raza told a University of Michigan audience the next year that the Islamophobia industry exploits the weakness of white liberal guilt.
Last year DePaul University, which is nominally Catholic, forced a student group to make a choice: either screen the film and feature Raza and a speaker but restrict attendance to its own members and bar advertising; or open the screening to the public and bar Raza from speaking. It chose the former.
Read recent and past Argus Leader coverage of the issue, and the South Dakota bill.
CORRECTION: The article originally said FIRE's rating for USD's solicitation policy had been recently updated. The policy has actually kept the same rating for nearly three years. The article has been amended accordingly.
MORE: DePaul restricts access to event critical of forced marriage, genital mutilation
MORE: DePaul forbids posters for gay reporter's talk on radical Islam
IMAGE: Honor Diaries/YouTube
Like The College Fix on Facebook / Follow us on Twitter