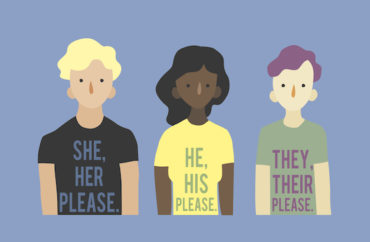 Because then you're 'putting it on the other person'
A university staffer recently offered a striking bit of advice to those looking to learn the new campus rules about pronouns, advising students to avoid apologizing if they "misgender" an individual.
The advice came from Sean Johnson, the program coordinator at the University of Washington Medicine's Transgender and Gender Non-Binary Care Program, during an interview with the in-house health magazine Right as Rain. The article instructs students on "how to talk about gender pronouns and why you should," teaching readers "how and when (and when not) to use pronouns in conversation, and what to do if you accidentally misgender someone."
"Misgendering," broadly defined, is the act of using pronouns to refer to someone's sex rather than the "gender" with which they "identify," for instance using the pronouns "he" and "him" to refer to a male who identifies as a female. It is considered offensive and hurtful among LGBT activists.
Surprisingly, Sean Johnson, the program coordinator, believes that such a faux pas does not warrant an apology:
If you learn you've misgendered someone or if someone calls you out directly, the best thing to do is thank them for correcting you and move on while making a mental note not to mess up next time.

You might feel inclined to apologize, but Johnson says that isn't necessary and can feel like you're trying to push the other person to let you off the hook.

"If you say, 'I'm sorry I messed up,' you're putting it on the other person to support you in trying to work all this out," he explains.

So stick with a simple "Oops, my bad, thanks for letting me know," and drop it.
Johnson in the article refers to correct pronoun usage as "a way that we orient ourselves to others and how we establish connections. Conveying to one another that you see me, you see who I am."
Universities have in recent years been pushing hard to train faculty, staff and students in pronoun ideology. The University of Minnesota, for example, recently began offering university-wide training to ensure community members adhere to correct pronoun conventions.
Read the Right as Rain article here.
MORE: University official says school plans to mandate use of preferred pronouns
IMAGE: Alice Che / Shutterstock.com
Like The College Fix on Facebook / Follow us on Twitter