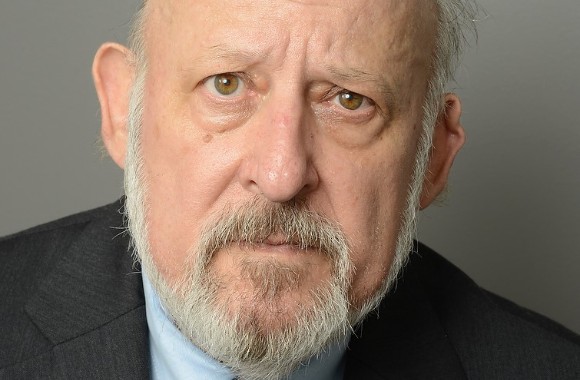 UPDATED
His adjunct salary pays for his wife's medical treatment 
"You now have to prove you're not guilty instead of them proving that you are."
That's what a conservative instructor told The College Fix in an exclusive interview Monday, hours after his university suspended him from teaching scheduled summer classes because of his tweets.
John Tieso (above) is already considering legal action against the local news station that first connected his Twitter account to his adjunct professor job at Catholic University of America. He hasn't ruled out suing the university, either.
According to the professor, WUSA9 went digging for dirt on him after it saw one of his tweets. The station reported Wednesday that Tieso's Twitter account "was removed" after a meeting with his boss, Busch School of Business Dean Andrew Abela, to discuss his allegedly "racially-charged" speech online.
"Your Twitter account has to go if you want to stay a member of the faculty," Abela (left) told Tieso, according to a phone conversation that Tieso recounted to The Fix. "You really ought to stay off social media for 6 months to let this die down." Tieso deleted his account shortly after.
Before Tieso shared his communications with The Fix, the administration refused to say whether Abela or any other official issued Tieso an ultimatum to delete his Twitter account or risk losing his job.
Asked to confirm details about Tieso's suspension and explain what had changed since his conversation with Abela, leading to the suspension, a spokesperson told The Fix: "We have nothing further to add to our earlier statement."
'Are you comfortable maintaining your social media account?'
Tieso is an award-winning professor. He received the business school's annual mentoring award last year, and the students he advised for three years in the International Business Ethics Case Competition won awards in two of those years (below).
His LinkedIn profile says he's been teaching at CUA since 2013. In September 2018 he was bumped up to "adjunct assistant professor" from lecturer in management, in which he taught business and data management to undergraduates and health informatics and management to graduate students.
The job is not just a way to keep busy after retiring from careers in the federal government and independent consulting. He relies on the CUA salary to pay for his wife's medical treatment, Tieso told The Fix in a phone interview.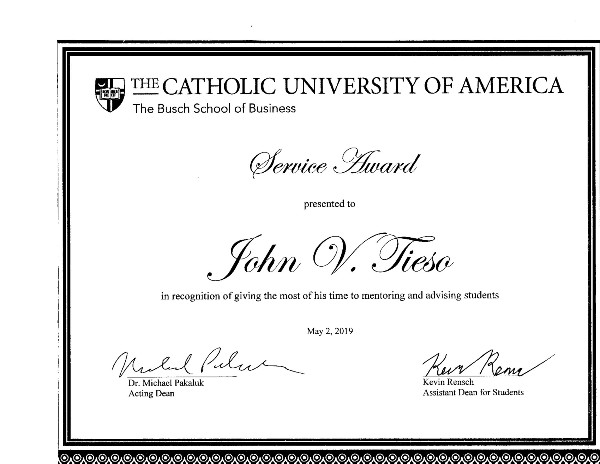 And he blames WUSA9 anchor Larry Miller for imperiling his livelihood. In May 5 emails between the two men that Tieso shared with The Fix, Miller first asks the professor for an interview without specifying the subject.
Asked for details, Miller responds the subject is "tweets you've authored." Pressed again, the anchor said "[m]ultiple people have reached out to us regarding the nature of these tweets and others like it."
Miller (below) cited a tweet that he said was dated May 5. It referred to Democratic Sen. Kamala Harris – whose parents are Jamaican and Indian immigrants – as a "former escort." (Harris has been dogged by accusations since the start of her political career that she dated Willie Brown – at the time the speaker of the California Assembly, twice her age and still married – to kickstart her entry into politics.)
The other tweet referred to a speech by former President Barack Obama in Africa, where he allegedly talked about his wealth. Tieso called him "[i]ncredibly incompetent and vain" and suggested Obama "consider staying in Africa and giving all his money to his people."
MORE: Tieso removes Twitter account after dean asks him about complaint
Tieso declined the interview, calling it "a biased witch Hunt [sic]" and refusing Miller's plea to "reconsider." His tweet about Harris is "historial [sic]" and the one about Obama "I know nothing about." (Tieso later told The Fix he didn't immediately remember that tweet from among tens of thousands he's written.)
The tweets "have nothing to do with the University," he continued: "Yet, you have made it so. WITCH HUNT." Tieso said his lawyer would contact Miller "shortly for your response."
Tieso then asked for names of the people who complained, and Miller cited "at least 5 students (former and current) [who] have come forward with concerns" about Tieso's Twitter account:
They're concerned about the nature of your posts given your role as an educator. Are you comfortable maintaining your social media account given your responsibility as a professor?
The professor refused to continue without Miller providing "[n]ames, dates, specific comments." He said he uses "[e]ducational citations" from social media in a social media-specific portion of a course.
In Miller's subsequent article on the professor's tweets, the anchor said the station had obtained a copy of an anonymous letter to Abela, the dean, from a student at a different university. It identified three tweets the author called "racist," but WUSA9 only mentioned the Obama tweet (below).
Teaching suspended 'pending completion of the investigation'
Administrators started discussing Tieso's tweets the same day Miller contacted him, according to another email chain provided by Tieso.
Karna Lozoya, executive director of strategic communications in the Office of the President, emailed Abela and Lawrence Morris, chief of staff and counselor to the president, to share "two tweets the students pointed to that were particularly offensive." (The tweets do not appear in the email shared by Tieso, but they appear to be those cited by Miller.)
The next morning, May 6, Morris forwarded the email to President John Garvey, citing "racial tweets" from a "Busch school adjunct." He said "local media … heard from a couple of students," and that "Andrew [the dean] is telling [the professor] to remove the account, has not ruled out other action." (Lozoya previously told The Fix this conversation between Abela and Tieso happened May 5.)
The same day, Garvey emailed Provost Aaron Dominguez to talk about the situation. Tieso emailed the dean and Harvey Seegers, the associate dean, that day as well to confirm he had deleted his Twitter account: "Hopefully, this will keep things at bay."
He said his final tweet disclosed that he was shutting down his account, reading: "Several people have claimed in my tweets that I am racist — which I certainly am not, and would not give such an impression." (The final archive of Tieso's Twitter account is from April 30. He had composed nearly 100,000 tweets.)
MORE: Prof who wrote about killing evangelicals awarded $25K over dismissal
Two days later, May 8, Dominguez forwarded Tieso the full thread. Tieso asked Dominguez to include his attorney on all emails from the provost, president, dean "or anyone else who seems to need to be informed of this ridiculous situation," and disclosed he was "working on a suit against WUSA9."
In the final email chain Tieso shared with The Fix, dated Monday, Associate Dean Seegers told the professor that Abela had decided to "postpone" his summer courses from "Session One" to "Session Two."
Seegers later disclosed he accidentally wrote "Provost" when he meant "Dean":
His office has received additional complaints, some from alumni, regarding your Twitter comments. Accordingly, an investigation will be conducted by the Provost's Office to determine the facts. The Provost has determined to suspend your teaching pending completion of the investigation.
'My reputation has been destroyed for convenience'
Tieso believes the university suspended him because it buckled under the pressure from the media and others. An active Catholic, he told The Fix he feels personally stung by the accusations of racism from unnamed critics.
"I love the school and students," he said. "I've had Catholics, Protestants, Jews, and Muslims in my classes, and I've treated each of them the same. They are my students."
WUSA9's reporting supports Tieso's assertion: None of the students or alumni it interviewed knew of prior student complaints about the professor's Twitter account, which he created in 2009, and they described his relations with students of color as "respectful." Lozoya, the CUA spokesperson, also previously told The Fix the university had "never received a single complaint" about him.
"I resent the University overreacting to trash allegations" about "political" tweets, Tieso told The Fix:
My reputation has been destroyed for convenience. They have swept me under the rug. I have been teaching at that university for 8 years. … To be called a racist is disgusting.
He lived through "busing, desegregation, all of it" in Boston, Tieso continued: "I couldn't care what color folks were. … Everyone got along just fine except for the radicals."
Tieso didn't mention his planned lawsuit against WUSA9 until the end of his interview with The Fix. The cause of action is defamation, he said, and "I might include the university in that lawsuit."
While he didn't specify exactly how the station defamed him, Tieso believes that Miller wasn't being truthful when he said current and former students had complained about him.
It's still not clear from the university's own policies that it had authority to investigate the professor for his tweets, much less suspend him.
CUA's social media policy says it only applies to faculty who associate their university affiliation with their comments, which Tieso did not. It urges further caution for "persons in leadership roles," which excludes adjuncts such as Tieso.
The university's previous statement to the media about Tieso also referred to "racially-charged speech on campus," not online. It implied that Tieso's students might have "been made to feel unsafe or uncomfortable" because of his speech, and if so, they should "come forward and make a report."
UPDATE: Tieso mentioned awards he had won in his initial interview, but The Fix could not independently verify them. The professor later provided documentation of the awards, which do not come up in a search for his name on CUA's website. They have been incorporated, including in a revised headline.
MORE: University investigates 'Instapundit' law professor for tweet
IMAGES: John V Tieso/Facebook, Catholic University of America, John Tieso, Larry Miller/Facebook, John Tieso/Twitter
Like The College Fix on Facebook / Follow us on Twitter