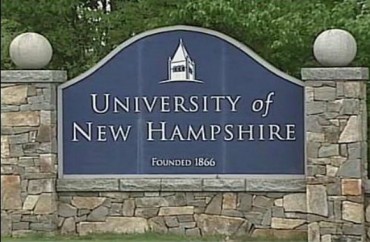 A "Bias-Free Language Guide" posted by the University of New Hampshire that declares the word American "problematic" and suggests other terms in its place – such as "U.S. citizen" or "North American" – was widely criticized Wednesday as the story went viral.
"North Americans often use 'American' which usually, depending on the context, fails to recognize South America," the guide states. "American assumes the U.S. is the only country inside these two continents."
The guide was chided by many commentators as political correctness run amok, prompting the university's own president to distance himself from the online document Wednesday.
"While individuals on our campus have every right to express themselves, I want to make it absolutely clear that the views expressed in this guide are NOT the policy of the University of New Hampshire. I am troubled by many things in the language guide, especially the suggestion that the use of the term 'American' is misplaced or offensive," said President Mark Huddleston, reports the Associated Press. "The only UNH policy on speech is that it is free and unfettered on our campuses. It is ironic that what was probably a well-meaning effort to be 'sensitive' proves offensive to many people, myself included."
Reuters reports the guide was created in 2013 by a small group of faculty, staff and students. Many other innocuous words are also listed on the guide as "problematic."
Problematic: Opposite sex. Preferred: Other sex.

Problematic: Homosexual. Preferred: Gay, Lesbian, Same Gender Loving

Problematic: Normal … healthy or whole. Preferred: Non-disabled.

Problematic/Outdated: Mothering, fathering. Preferred: Parenting, nurturing.

Problematic/Outdated: Obese, overweight people. Preferred: People of size.
"We offer this guide as a way to promote discussion and to facilitate creative and accurate expression," campus officials stated on the university's website to introduce the guide. "An integral part of UNH's mission is to continue to build an inclusive learning community, and the first step toward our goal is an awareness of any bias in our daily language."
AP reports Huddleston was "not aware of the guide until this week."
Like The College Fix on Facebook / Follow us on Twitter
IMAGE: Internet screenshot