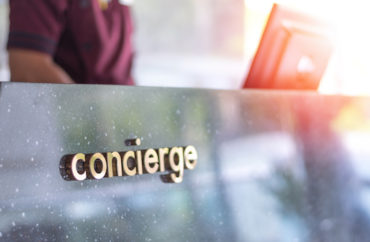 It's all part of the 'college experience'
New Mexico State University offers its students a premiere on-campus concierge resource, with amenities including laundry service, moving assistance and vacation planning.
As reported by Inside Higher Ed, the "Crimson Concierge" program is part of an attempt by the university to "be more competitive with other institutions with flashier offerings." The service is provided by Sodexo, "a leading provider of integrated food, facilities management and other services that enhance organizational performance and improve the quality of life daily in North America."
According to the concierge's website, the program, which touts itself as a "hub for school life and assistance," offers students amenities such as "dining reservations," the booking of "travel & vacation packages," and "moving & storage" assistance.
When the concierge was announced earlier this year, the university stated that it would also offer students assistance with "order[ing] gifts or specialty items, mak[ing] doctor and auto repair appointments" and more.
From Inside Higher Ed:
After a slow rollout, the program is being much more aggressively marketed toward potential students, [Assistant Vice President of Auxiliary Services Steve] Bettner said. It is paid for not through university funds, but instead through partnerships with outside companies and charging a fee or commission on services students obtain through the concierge.

The concierge will research travel plans both locally and abroad…Crimson Concierge also finds and makes dinner reservations, locates events in the area, and, for a little extra money, cleans and folds laundry and does housework.

Both students and their families have loved the program, which is housed in the university union, Bettner said. One of the staffers there is referred to as a "mother away from home" who "would do anything a mother would do," which delights parents, Bettner said.

He acknowledged the criticism in academe of too much focus on facilities and not on academics, but said that this will help remove a "to-do list" for students and help them focus more on their studies.

"This significantly contributes to improving [graduation] numbers," Bettner said. "That's the goal that will bear out over time. We're using this as a tool to help students through their matriculation and graduating on time."
"We are very aware of the fact that a large percentage of students are making their ultimate selection on schools that really can fulfill the 'college experience,'" Bettner told Higher Ed.
At another school, High Point University, the concierge there "handles phone calls to the university and communications with parents and gives students free rides to the nearby airport" and also offers services such as "taking pictures for a LinkedIn profile or teaching communication skills."
MORE New documentary exposes vast wealth squandered on campuses
IMAGE: BlurryMe / Shutterstock.com
Like The College Fix on Facebook / Follow us on Twitter