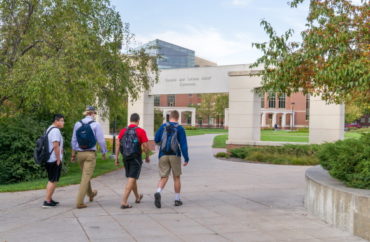 The chancellor of the University of Nebraska-Lincoln has announced a sweeping "Commitment to Action" plan to tackle what he calls systematic racism in the university's hiring practices and campus culture.
But the proposal has been met with steep opposition from his bosses, including the governor of the state, the president of the state's university system, and a prominent Republican regent.
What parts of UNL Chancellor Ronald Green's plan will be implemented — and what will be left on the cutting room floor — remain unclear as a war of words plays out in the cornhusker state.
The plan, published Nov. 17, seeks to integrate critical race theory throughout the university through an overhaul of faculty hiring practices, a review of tenure and curriculum standards, and kickstarting new social justice and diversity seminars for students and faculty.
In an op-ed in the Omaha World-Herald, Chancellor Green announced that the state's flagship university must "integrate diversity, equity and educational quality into our missions and operations." The plan was then posted to the university's website.
He cites Professor Ibram Kendi's definition of anti-racism to become "actively conscious about race and racism" and take transformative "action to end racial inequities" embedded into society.
The plan, co-developed by faculty as well as diversity and inclusion administrators, implements a "comprehensive" review of faculty and staff hiring practices "​​in the context of race and ethnicity."
It also calls for "equitable and inclusive" recruitment workshops to be attended by faculty and staff serving on search committees.
Under the "strengthening the curriculum" theme, the plan would "mandate a more rigorous and specific definition of diversity and to vet the current list of courses that count for that requirement, removing any that do not meet or exceed that more focused definition."
Additionally, the plan would potentially dismiss critical course evaluations. It calls for a review of course evaluations "for potential bias-driven discrepancies among female instructors, instructors of color, instructors who are socially marginalized in other ways, and all instructors who teach courses that mandate serious engagement with diversity."
Nebraska Governor Pete Ricketts criticized the plan as "ideological indoctrination" in a Nov. 18 news release: "From racially motivated hiring practices to harmful trainings, the University's plan would inject Critical Race Theory (CRT) into every corner of campus."
He added the plan is "completely off base, and they need to just start all over."
Jim Pillen, a University of Nebraska regent and Republican candidate for governor, said in a news release that the new curriculum mandates would force "students to interact with and adhere to radical, leftist views on race in order to graduate from the university."
"The initiative seeks to create a de facto CRT/social justice graduation requirement for all UNL undergraduates," Pillen said. "UNL will modify its analysis of course evaluations to devalue/deemphasize negative feedback about minority instructors and disregard complaints about the teaching of coursework."
In an open letter, Ted Carter, president of the University of Nebraska system, said he supported some aspects of the plan, but stopped short of giving it a full green light. His statement indicates he does not support hiring on the basis of skin color or mandating critical race theory.
"I applaud Chancellor Ronnie Green for bravely beginning the dialogue," Carter said. "Here's what we will not do. We will not impose critical race theory, nor any theory, upon students. We will not hire candidates based on their skin color. We will not close our doors to any qualified student. We will not limit the free, robust exchange of ideas on campus — one of the most cherished ideals in higher learning."
Steve Kolbe, president of the University of Nebraska-Lincoln Faculty Senate, did not respond to repeated requests for comment from The College Fix regarding the curriculum mandate and academic freedom concerns.
The University of Nebraska-Lincoln's media affairs department also did not respond to repeated requests for comment from The College Fix to determine whether the plan is indeed moving forward or whether it will be reworked due to state leadership's concerns.
The plan comes on the heels of the University of Nebraska system's faculty senate presidents releasing a statement over the summer that they "are committed to educating [themselves] and other[s] about how to combat racism and to promote equity, diversity, and inclusion within our departments."
Green's proposal also comes after a failed attempt to ban critical race theory by the University of Nebraska Board of Regents vote in August.
MORE: Nebraska regent stands behind resolution opposing CRT as professors, chancellors balk
IMAGE: Ken Wolter / Shutterstock
Like The College Fix on Facebook / Follow us on Twitter