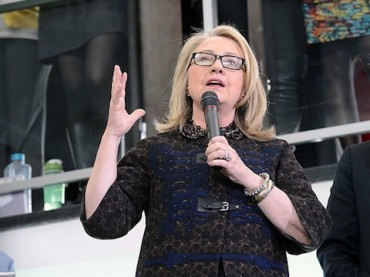 Looks like Hillary Clinton's effort to win over college-aged voters as she revs up for her likely 2016 presidential campaign has gotten off to quite the bumpy start.
First was her major faux pas that she and President Bill Clinton were "dead broke" when he left the White House – a comment that didn't sit well with college students who eat Top Ramen for dinner while they anxiously watch their college loan debt grow exponentially.
And now students are balking at the astronomical honorarium she will get – $225,000 – when she gives a talk at the University of Neveda, Las Vegas, this fall – a fundraising appearance for a public campus that is also in the process of raising tuition by 17 percent.
While her honorarium will be paid for through private sponsorships obtained by the university's foundation, the fee still doesn't sit well with students.
The Washington Free Beacon reports:
UNLV student government leaders expressed their outrage at the university's decision to pay the former Secretary of State such a hefty fee. "We really appreciate anybody who would come to raise money for the university, but anybody who is being paid $225,000 to come speak- we think that's a little bit outrageous. And we would like Secretary Clinton, respectfully, to gracefully return the money back to the university or to the foundation," Daniel Waqar, Public Relations Director for the UNLV Student Government, told Jon Ralston on Ralston Reports.

UNLV Student Body President Elias Benjelloun agreed and weighed in on Clinton's controversial speaking fee. "We're excited that Hillary Clinton would come to the university to fundraise on behalf of our university. We're excited anyone wants to come to UNLV and fundraise on our behalf. When we heard $225,000, we weren't so thrilled…We'd hope that Hillary Clinton…returns part or whole of the amount she receives for speaking," he said.
Let's see what difference these students' concerns make to Clinton, but the likelihood she returns or donates the money is slim. It would be a good PR move, but the problem with the liberal elite is they have a do as I say, not as I do mentality.
Like The College Fix on Facebook / Follow us on Twitter
IMAGE: U.S. Department of State/Flickr