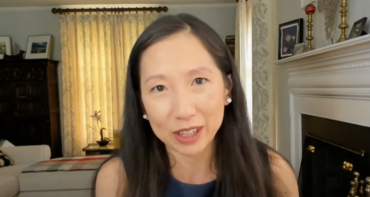 UPDATED
Their letter also accused Wen of being 'fatphobic'
More than 400 public health professionals and "allies" wrote a statement calling for the cancellation of Leana Wen as a speaker at the 2022 American Public Health Association Annual Meeting, accusing the doctor, columnist, and health policy scholar of promoting harmful health policies.
"Through her platform on news outlets and social media, Dr. Wen (pictured) has promoted unscientific, unsafe, ableist, fatphobic, and unethical practices during the COVID-19 pandemic," according to the statement.
An earlier draft of the statement referred to Wen as a "keynote speaker" but she is in fact one participant in a panel discussion, according to the American Public Health Association.
Public health professors Dabney Evans at Emory University and Caryn Bell at Tulane were among the many academics who signed their names to the letter. Other signatories included University of Washington nursing professor Nora Kenworthy and Boston College global health professor Tara Casebolt.
As examples of "unsafe" or "unscientific" recommended practices, the letter cited several op-eds by Wen, including one suggesting that COVID-19 infection should be understood as a "new normal," another arguing that COVID-19 closure learning loss has harmed children, and a third suggesting that municipalities should lift some COVID restrictions.
The letter also cited as "fatphobic" a tweet from Wen to Krispy Kreme asking that they refrain from giving away free donuts to encourage vaccination.
Wen is research professor of health policy and management at George Washington University's Milken Institute of Public Health and a contributing op-ed columnist for The Washington Post. She is also the former president of Planned Parenthood, the nation's largest abortion vendor.
Wen once took a hard line on masking and vaccinations.
In June 2021, NPR reported that Wen thought "the CDC ended masking requirements too abruptly and prematurely."
In July of that year, Wen told CNN that unvaccinated people should be put through mandatory testing and that "it needs to be hard for people to remain unvaccinated," The College Fix reported.
However, her recommendations have altered as time has passed and conditions have changed.
In an op-ed for the Washington Post in February 2022, she warned against the "extreme" view of "offer[ing]" no reasonable endpoint for restrictions and mak[ing] continued masking a symbol of their belief in science."
Falling rates of COVID-19 infection and wide vaccine availability, among other circumstances, "explains why masking requirements were the right policy before and why masking can now move from a government-imposed mandate to an individual decision," Wen wrote.
Letter also cited Wen's firing from Planned Parenthood, criticized her for de-emphasizing abortion
Wen worked as president of Planned Parenthood for eight months in 2019 before being "ousted" by its board of directors, according to The New York Times. Wen told the paper she left for "philosophical differences." Some employees felt that she de-prioritized abortion as a political goal or criticized her request that the website be updated to include sections on non-reproductive health conditions, according to the paper.
"It is important to point out that Dr. Wen's leadership failure [at Planned Parenthood] and unwillingness to address abortion's political nature empowered attacks on abortion to escalate to the point we see today," according to the letter.
Vinay Prasad, a hematologist-oncologist and epidemiology professor at the University of California, San Francisco, tweeted a video of himself criticizing the letter on Wednesday.
"Open letter to APHA says Leana Wen was on wrong side of abortion debate (She is not pro-choice enough as former Pres of Planned Parenthood!) & is 'fatphobic' b/c she says eating Krispy Kreme EVERY DAY is bad," he tweeted.
Open letter to APHA says Leana Wen was on wrong side of abortion debate (She is not pro-choice enough as former Pres of Planned Parenthood!) & is 'fatphobic' b/c she says eating Krispy Kreme EVERY DAY is bad 🤔

Full video on YouTube; Here is a clip 👇https://t.co/cgkaGGVHjw pic.twitter.com/E1foOckQAj

— Vinay Prasad, MD MPH 🎙️📷 (@VPrasadMDMPH) August 17, 2022
The statement concluded with demands that the American Public Health Association rescind its speaking invitation to Wen and replace her with "someone who is capable and can speak to evidence-based practices rooted in a collective responsibility for health equity."
American Public Health Association reached out to The Fix to offer a response to the letter
After publication of the article, the APHA reached out August 18 to clarify that Wen is not a keynote speaker. A spokesman also said that the organization has not officially received a copy of the letter.
"APHA is aware of the letter, having found it in social media and it was also shared with us by members. It appears that those authoring the letter intend to share it with APHA soon, but that hasn't happened," communications director Joseph Bremner told The Fix.
"Public health has a history of healthy dialogue and disagreement. Finding the common ground in these discussions is how we move the needle forward toward creating healthy people in healthy communities," he wrote. "The letter, although inaccurate in some places, is another example of open debate to push the field to have difficult discussions."
"Leana Wen is not a 'keynote' speaker and is not being paid any sort of fee to participate in the APHA Annual Meeting and Expo. She is participating in a moderated panel discussion," the spokesman said.
"We value vigorous debate about public health and support a respectful and fact-based discussion. We appreciate the time and effort of she and the other 7,000+ people who will speak in a scientific session at APHA's 2022 Annual Meeting to share their work and experience."
MORE: Ex-Planned Parenthood chief rejoins elite university
Editor's Note: This article was updated with comments from the APHA, including clarification that Wen is not a keynote speaker.
IMAGE: PBS NewsHour/YouTube
Like The College Fix on Facebook / Follow us on Twitter