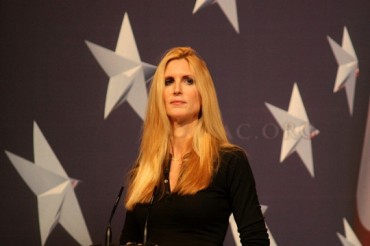 Conservative firebrand Ann Coulter is slated to speak at the University of Southern California this Sunday, an event that has prompted talk of a protest and a firestorm of online controversy on Facebook, where many USC students called the best-selling author and political pundit an anti-Muslim xenophobic demagogue.
"I'm gonna be really surprised if this women makes it out of USC alive lol," wrote one student on the event's evite on Facebook. "Based upon her ignorance and the amount of hate she's brought, I expect a riot this Sunday. Not advocating such a thing of course but if it were my decision."
Hundreds of comments between students who called Coulter names and expressed shock and outrage that she was set to talk on campus and those who defended her upcoming visit and called for diversity of opinion to be respected were posted within the span of just a day. Most students first got wind of Coulter's pending appearance after the school's mainstream political student assembly promoted the event Sunday on its Facebook page. 
Jennifer Massey, president of the USC College Republicans, which is co-hosting the appearance along with Hancock Park Patriots and several other Los Angeles-based conservative organizations, said in an interview with The College Fix on Monday that she is disappointed by the Facebook comments.
"The vile hatred is ridiculous, it's crazy," she said. "We don't get many conservative speakers on campus. We believe in free speech."
Massey said some students emailed campus administrators about cancelling the event, and there is talk about a campus protest at the speech Sunday, part of a stop on Coulter's book tour, as she recently released "Never Trust a Liberal Over Three-Especially a Republican."
USC College Republicans have been tasked with developing a protest reaction plan and paying for campus security at the event, she added.
In 2007, Coulter gave a speech at USC at an event dubbed "Islamo-Fascism Awareness Week" that prompted protests as well, the LA Times reports.
Click here to Like The College Fix on Facebook. / TWITTER: @CollegeFix
IMAGE: Gage Skidmore/Flickr