The University of Southern California has long been known for its dichotomy of being a wealthy school located next to a poor and crime-ridden part of South Los Angeles.
In fact, as recently as last month a student op-ed in the Daily Trojan called for campus police to be armed, with the University Park region's crime rate over the last six months being 300 percent higher than other LA areas, according to stats compiled by the Los Angeles Times.  
Yet when Josh Masters, a 22-year-old USC student, posted a meme on a Facebook page suggesting people should lock their car doors when south of campus, it started a chain reaction that ultimately led him to be brought before his peers for a trial.
Yes, literally a trial.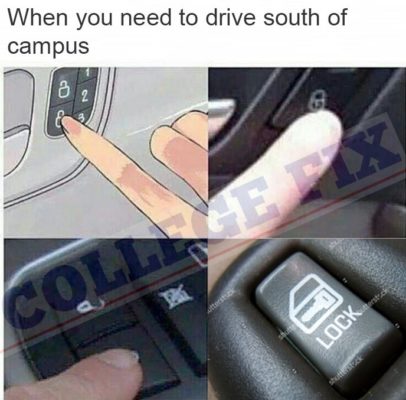 Masters stood accused of upsetting students by suggesting the area south of USC is unsafe, and for not backing down or apologizing when challenged on it. Previous Facebook engagements in which he debated hot-button issues with peers were also raised.
Suggesting one might need to lock their doors when parking south of USC is racist, ignorant and problematic, and especially troubling when brought up by someone who is white, Masters was told during the trial, according to audio recordings obtained by The College Fix.
The end result? Masters was found guilty of violating his fraternity's respect regulations for online communication and had to say he was sorry or risk being suspended or possibly kicked out. Masters ended up making the formal apology in person.
The incident happened last year, but Masters, in a recent exclusive interview with The College Fix, is speaking publicly about his trial for the first time now.
Going against 'the grain'
The trial Masters faced last spring was not implemented or overseen by campus administration. It was a peer-led effort through Masters' fraternity, Delta Kappa Alpha, a venerable institution at USC that's not under the private school's purview. It's a co-ed, cinematic arts-based frat that he joined during his sophomore year.
"They had a far-left leaning vibe," said Masters, who grew up in San Diego. "I consider myself a moderate."
A moderate who enjoys a good debate. Last year, prior to the trial, Masters said his Facebook comments often "went against the grain" both in the frat's Facebook group page and also on other student-created and administered USC Facebook pages. In particular, Masters took right-of-center stances on issues surrounding safe space culture and campus free speech debates, he said.
"I do enjoy kind of arguing with people about those things because I find them interesting discussions," he said.
Then he posted the meme about locking car doors when parking south of USC, and it was the beginning of the end of his online debating career.
'If you say this it might hurt someone, so like, maybe not — you know what I mean?'
Masters provided The College Fix with three audio recordings from his trial. In one, the meeting comes to order with the frat's executive council sergeant at arms summarizing the situation.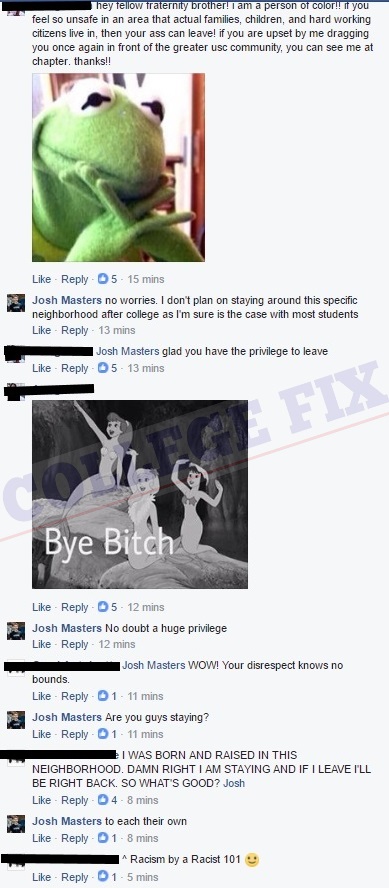 "So, [executive council] has actually been contacted about Josh Masters' online behavior in Facebook groups a few times throughout the course of this past year. Generally it's just about sort of his willingness to challenge or argue about certain aspects of how [Delta Kappa Alpha] is developing forward. However there was not sort of any real reason to call him to standard for it, as there was not a violation of bylaws. He was generally completely respectful with his behavior until a recent event came to our attention through multiple different people," the student sergeant at arms said, according to the recording.
Then the meme was described. Masters had not posted it on a Delta Kappa Alpha Facebook page but actually another one called "USC Memes for Spoiled Pre-Teens." The post prompted commentary and Masters had responded: "Hey friends, someone was shot and killed outside my living room last month at 11 a.m. in broad daylight. Everyone living in this area should be concerned about their personal safety. If that's racist, then so be it."
The meme and subsequent back-and-forth was the impetus for the trial. The executive council sergeant at arms proceeded to tell Masters he should "listen more" and "speak less," and went on to suggest Masters does not have the proper standing to speak on such issues, according to the audio clips.
"When someone else is like telling you, like, 'You saying this brings me pain,' like, it's a pretty clear indicator to me that, like, maybe you should just hold off," the sergeant at arms said. "You know, it's just like, it's not censorship. It's not like we are curtailing your free speech, it's just like a suggestion. You know that if you say this it might hurt someone, so like, maybe not — you know what I mean?"
Masters said he ended up apologizing in person to his frat at a subsequent meeting. He saved a copy of his speech and provided a written copy to The Fix:
For those of you who have kept up with the Facebook page you're probably aware that there have been some heated conversations. Often times I've been a part of those conversations more than I should have and in many cases stated my opinions when the best course of action was really for me to just listen.

There have been certain comments where I crossed the line, and I'm very sorry for hurting members of this community with the things I've said or posted.

It's a very intentional part of my goal as a person to learn about how to effectively engage in these kinds of dialogues, and to reach a better understanding of empathetic listening.

For those who want to, I'd love to be able talk in person and once again want to say that I'm sorry for hurting members of this organization.
'You make yourself a target if you speak out'
Masters has spent last fall and this spring on the East Coast doing a work fellowship. Thinking back to the incident at USC, he said he has some regrets.
"I wish I would have been a lot more upfront about how their attempt at censorship was not OK," he said in a telephone interview with The College Fix. "I will be OK to engage in political debate with people when I return."
Masters returns to USC this fall as a senior; a little older, a little wiser, and with a new plan for pursuing debate among his peers: face to face conversations.
"I think it's much better," he said. "Facebook … it's not the ideal place to debate things."
But he doesn't plan to stay silent and accept censure.
"I'll be more open about advocating for free speech," Masters said, "which is kind of taboo on campus. You make yourself a target if you speak out."
MORE: College Republicans president resigns rather than apologize for free speech wall that triggered peers
Like The College Fix on Facebook / Follow us on Twitter