Recent efforts by the University of San Diego College Republicans to host conservative speaker Matt Walsh during the fall semester have reportedly been rejected, prompting concerns the private Catholic institution is engaging in viewpoint discrimination.
The USD College Republicans, which is working with Young America's Foundation to book Walsh for a campus speech, were first denied a funding request by the student government at a meeting in late March.
Subsequent meetings between USD College Republicans President Alyssa Jackson and administrators to find alternative funding options and pathways to bring Walsh to campus were unsuccessful as well, YAF's New Guard reported Tuesday.
Over the last year, YAF has co-hosted Walsh as part of his ongoing "What is a Woman?" nationwide campus tour, focused on his documentary that questions transgenderism.
But USD College Republicans, when they requested the funding from the student government on March 30, said that they specifically asked Walsh's team not to discuss the transgender prompt, and instead agreed on a topic title of: "It's your fault you're offended."
"We welcome students from all different political backgrounds, spectrums and everything to bring their ideas and values and engage in respectful, productive conversations," a USD College Republicans representative said at the meeting when the group asked for $21,000 in funding.
"…Not being offended at all is not realistic in this world," a CR member said in the presentation, according to a YouTube video of the student government meeting.
"…The point of this event is we want to get past that and make a space on this campus where people of all different political backgrounds and ideologies can come together and peacefully discuss their thoughts."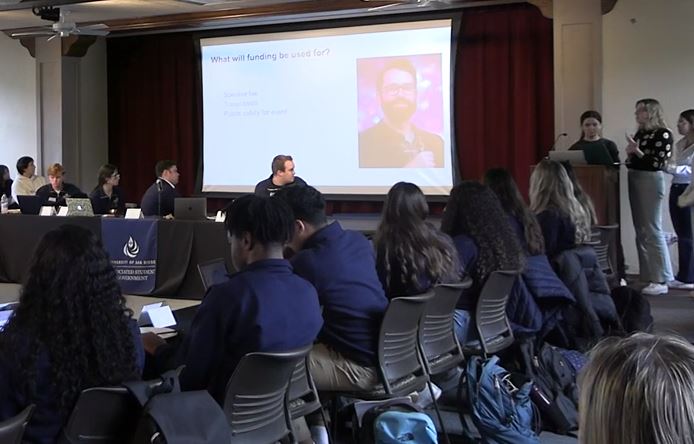 USD's Associated Student Government Budget Committee recommended the full student government deny the funding request because while it supports free speech, Walsh is "not aligned" with the values of the student government, according to the committee's presentation.
One student government representative argued other universities have rejected Walsh because he has "provocative positions on immigration, communities of color, Muslims and members of the LGBT community that are in contradiction to Jesus' great commandment to love God and love thy neighbor."
Much of the debate centered on whether the College Republicans could find someone less offensive than Walsh to bring to campus, but the CRs responded that there is probably no conservative speaker today who has not said something controversial or problematic.
The student government unanimously voted to deny funding Walsh's talk. While the student government rejected the funding request, that action does not prohibit or prevent the College Republicans from bringing Walsh to campus if they can fund it by other means.
However, according to Jackson, in subsequent meetings with USD administrators after the student government funding request was denied, several campus officials allegedly told her Walsh is transphobic and too offensive to speak on campus.
USD's media relations department could not immediately be reached Tuesday by The College Fix seeking comment on those meetings and what was discussed.
Nick Baker, a spokesman for YAF, a national conservative student organization, told The College Fix in a telephone interview Tuesday his group is working to drum up public pressure to compel campus officials to reverse the decision to allow Walsh to speak, hopefully sometime this fall.
He said although the funding request was denied, "YAF is always happy to try and help."
"Our main hurdle will be convincing administration that they should allow multiple perspectives to be heard," Baker said.
In his write up on the situation, Baker pointed out that USD has hosted "a parade full of leftist speakers. Black Lives Matter Founder Patrisse Cullors, Rep. Adam Schiff (D-CA), and Chelsea Clinton have all been allowed to address students, despite their beliefs that directly oppose many basic principles of the Catholic faith."
Jackson told the New Guard her group hopes "we can still bring Matt Walsh to voice conservative beliefs on campus, which are heavily underrepresented. We face discrimination from professors and peers everyday for our values and we believe that Matt would be a strong advocate for our cause."
On its Instagram page, the USD College Republicans this week urged people to "reach out to USD via email to show your support for freedom of speech and diversity of opinions at USD."
MORE: Raucous protesters shut down street, block exit, harass Matt Walsh supporters at U. Iowa
IMAGE: Main, Matt Walsh show, Daily Wire — Inside, ASG USD student government meeting screenshot
Like The College Fix on Facebook / Follow us on Twitter