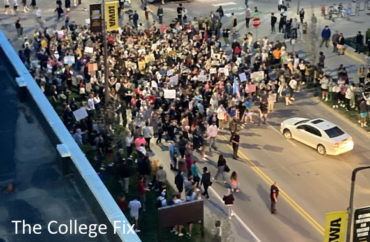 Hundreds of raucous protesters at the University of Iowa on Wednesday descended on a campus venue hosting conservative firebrand pundit Matt Walsh and succeeded in creating disruptions and some chaos for those who attended the "What is a Woman?" talk.
Demonstrators chanted and screamed at attendees waiting in line for more than an hour for the event to start, repeatedly clapping and yelling "f*ck you fascists" and other slogans in their direction, according to videos posted on Twitter.
They also threw massive piles of marbles on the floor in an attempt to trip Walsh supporters.
Later they blocked the exit and street outside the venue after the talk was over. A pro-LGBTQ supporter who documented the entire protest on Twitter stated "Event is over and protestors are blocking the only way out for most of them. Cops can't do shit. Hundreds of people in the way."
"Matt Walsh attendees are extremely mad that they're stranded. Crying to the cops who are powerless."
A protester dropped thousands of marbles near one exit and forced all the angry chuds to file through one exit and through a gauntlet of screaming protestors pic.twitter.com/vI9U3pfPsr

— Oliver 🐇🐈‍⬛ (@Ollie_XVX) April 20, 2023
Pictures and video provided to The College Fix also show a massive throng of protesters blocking and shutting down the street and front of the building where Walsh spoke.
A pep band was also on hand, keeping things lively as protesters waived signs such as "Matt Walsh + Pedo" and held aloft rainbow flags, all the while rhythmically chanting slogans like "trans rights are human rights," posts on Twitter show.
Despite the frenzied protest, both a screening of Walsh's documentary, which questions transgender ideology, as well as his speech to a standing-room only crowd of more than 500 people inside a campus auditorium, took place without being shut down.
"The speech went amazing," Jasmyn Jordan, chairwoman of Iowa Young Americans for Freedom, which hosted the event, told The College Fix. She added nobody inside the Iowa Memorial Union shouted Walsh down or walked out.
However, when Jordan and her group tabled on campus in the afternoon prior to the event, one protester slapped coffee out of her peer's hand, and another person threw a ton of water over their entire table, dousing their sign-up sheet and other equipment, she said.
Many University of Iowa students argued Walsh's speech was harmful, the Daily Iowan reported:
Leading up to Walsh's event … students, and citizens chalked supportive messages for transgender people on the T. Anne Cleary Walkway and released multiple Change.org petitions against Walsh which garnered almost 4,000 signatures.

The UI Undergraduate Student Government wrote in a statement Wednesday that its members will continue to work with campus stakeholders to address an increase of transphobia and queerphobia on campus.

"We recognize that recent local and nationwide events are targeting transgender individuals and may cause distress and/or harm to members of our student body," USG wrote.

UI second-year student Greyson Durian said as a transgender individual, Matt Walsh's rhetoric is harmful.

"I think something needs to be done about it, and I think it's awful that the university has allowed him in," Durian said.
As The College Fix previously reported, Iowa Young Americans for Freedom had been the center of campus controversy for the last six weeks, with its members being doxxed, harassed, threatened — and even infiltrated by left-wing students seeking to disrupt their event.
MORE: 'Is it true?': Matt Walsh asks the right question about trans ideology at New Mexico State
IMAGE: Jasmyn Jordan (a contributor to The College Fix)
Like The College Fix on Facebook / Follow us on Twitter