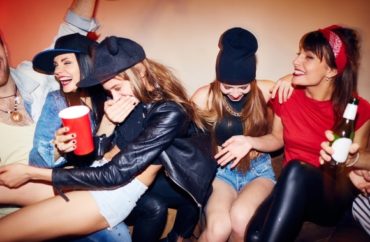 Legal and mental health experts criticize the new rules
The University of Texas' flagship campus in Austin recently announced a ban on all on-campus parties as part of its new coronavirus guidelines. It also warned students not to host off-campus parties, even though the city's guidelines allow for gatherings up to 10 people.
The school's "Protect Texas Together" coronavirus guidelines state that all parties "put the health and safety of our community at risk and raise anxiety levels."
"No parties on or off campus are allowed," the guidance added. "We will encourage compliance by increasing awareness and fostering a spirit of cooperation. For students who put the community at risk with their behavior, corrective, disciplinary action may be taken in accordance with the university's Institutional Rules."
But a spokesman for the public university did not respond to a question from The College Fix asking for the school to define what constituted a party and said that the university isn't prohibiting off-campus gatherings.
University spokesperson J.B. Bird said the school will rely on the city of Austin to enforce the coronavirus guidelines for off-campus parties and said it is working now to define event guidelines.
"The university is not banning parties off-campus, where we do not have jurisdiction, but reminding students to comply with City of Austin orders on social gatherings of 10 or more where social distancing can't be achieved," Bird told The College Fix.
When asked if the rules applied to students who protest, Bird said UT-Austin "vigorously supports freedom of speech and assembly and relies on local and state authorities to enforce their rules on gatherings, consistent with those protections," but told The Fix that those students would face the same punishments as someone who attended or hosted a party.
He did not say what punishments student violators could face, telling The College Fix it "depends on specific circumstances and facts of an individual case. We support the city in its authority to enforce its orders."
The university's general counsel did not respond to multiple requests for comment, and Bird told The College Fix the counsel's office forwarded questions to his communications team.
He did not expound any further on the disciplinary process.
The vagueness of these policies raises concerns from a legal perspective, said Azhar Majeed of the Foundation for Individual Rights in Education.
While the university is right to defer to public health officials for guidelines, universities should be careful when crafting policies, he said.
"The way to do that is with clear guidelines, not vague, open-ended guidelines. The intent is good but the consequences could be bad if universities don't enact sound policies," Majeed, the vice president of policy reform at the civil liberties nonprofit, told The College Fix via email.
"This type of vague and open-ended policy leaves students guessing, and it could include rules that violate freedom of expression. The university should draw clearer lines for students and administrators, otherwise you're going to have inconsistent and selective application."
And a university professor warns that the no-parties approach is flawed, arguing that students need a social circle to thrive on campus.
Professor Jessica Gold told The College Fix via email that the prohibition on social gatherings and parties will harm freshmen students especially.
"This will be particularly challenging for freshmen who have no social circle and know no one. Are they supposed to come to a brand new place (as most places are prioritizing freshmen coming) and then just be alone?" Gold, a trained psychiatrist and a psychiatry professor at Washington University in St. Louis, told The College Fix.
She said university leaders need to be aware of several mental health issues when it formulates its policies.
Administrators should be concerned about loneliness, Gold said, noting "this is particularly important when you are bringing freshmen back and yet freshmen do not have established social networks and then you bring them in and tell them they can't actually socialize to find one."
She also said "anxiety is going to be up, period, with the pandemic," and "all of these rules breed anxiety." Gold also warned about students developing depression if universities continue to isolate students and remove social opportunities.
Colleges should not ban students from parties because doing so "basically cuts them off from potential supports at home, and does not allow them to access supports in person at school," Gold argued.
Furthermore, she said students will likely flout bans on parties so universities need to offer safe alternatives, a point she made in a July 21 article in The Atlantic.
"I think students will not be able to do this (they will be lonely, they will get bored, they will rebel) and should be given safe alternatives" and encouraged to safely socialize, Gold told The Fix.
University of Texas joined other schools like Tulane University, which warned students last month that it would expel or suspend students who hosted parties.
MORE: UCSB asks students to rat each other out for hosting parties
IMAGE: Pressmaster/Shutterstock
Like The College Fix on Facebook / Follow us on Twitter