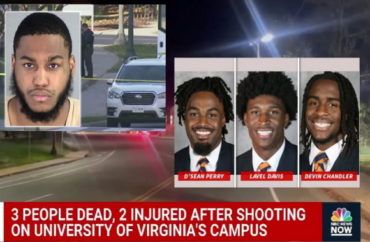 Suspect 'repeatedly refused to cooperate' in gun-related probe
University of Virginia officials acknowledged recently that they knew about a shooting suspect's prior conviction on a weapons charge before his alleged rampage that left three students dead and two injured.
Administrators issued a statement confirming that the suspect, Christopher Darnell Jones Jr., had been convicted of a misdemeanor for a concealed weapons violation in 2021, prior to the Nov. 13 shooting.
UVA did not respond to requests from The College Fix seeking comment, but the university did issue the same statement to various media outlets on the matter.
In it, university spokesman Brian Coy said that UVA Student Affairs had learned in mid-September from a student that Jones said he had a gun, but that it was not said in the context of a threat.
In following up on the tip, campus officials learned of the weapons charge, "for which he received a 12-month suspended sentence and a small fine," Coy said.
Jones "repeatedly refused to cooperate with University officials who were seeking additional information about the claims that he had a firearm and about his failure to disclose the previous misdemeanor conviction," Coy added.
On October 27, Student Affairs escalated Jones' case for disciplinary action, he said.
"In the wake of the shooting yesterday, Student Affairs officials discovered that the report had not been transmitted to the University Judiciary Committee … and are working to correct that," Coy said. "It is important to note that the UJC is a judiciary body. In order to serve due process, their proceedings customarily take weeks or months."
The admission has caused some to argue UVA dropped the ball.
"Clearly an opportunity to intervene was missed in this case," said Bill Leighty, then-governor of Virginia Tim Kaine chief-of-staff amid the wake of the Virginia Tech massacre in April 2007, which left 32 dead.
Leighty made the comments to WTVR.
"The full investigation was clearly not completed here," Leighty said. "When they could not reach the student himself and talked to his roommate instead, there should have been far more rigorous application of interview techniques of any of the other people he was affiliated with at the university, in his dorm, or in his home, family should have been contacted."
After the shooting, the university hosted events to honor the victims and help the community heal from the tragedy. The three slain students, all football players, are wide receiver Lavel Davis Jr., wide receiver Devin Chandler and linebacker D'Sean Perry.
On Nov. 19, a campus memorial was held in honor of the victims.
After it was discovered that the suspect's information never got to the University Judiciary Committee, some were displeased with the lack of transparency, one UVA student who asked to remain anonymous told The College Fix.
"I was a little upset that nothing was done [earlier], especially if he was on the record. They could have done just way more. Instead of overlooking it," the UVA student said.
Jones faces three charges of second-degree murder and three counts of using a handgun in the commission of a felony, CNN reported, noting the shooting took place after students returned to campus from a field trip to Washington D.C. on a bus.
MORE: UVA mass shooting suspect in custody, campus mourns three slain football players
Like The College Fix on Facebook / Follow us on Twitter