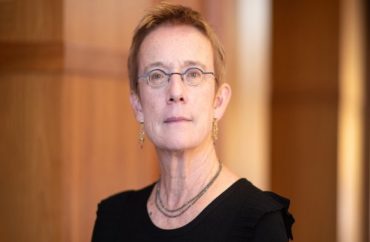 Says 'prosecutors are relying on rap music as evidence of guilt or a crime'
A law professor and two colleagues at the University of Virginia got a $1 million grant this summer to start the school's new "Sound Justice Lab" — which "aims to advance gender justice in law, democracy [and] community."
According to its website, the Sound Justice Lab will use "audio-visual media and storytelling to explore what justice means to ordinary people and everyday life" and "explore connections between law and auditory and other expressive media" such as "film, sound, visual art, poetry."
Anne Coughlin (pictured) along with music Professors Bonnie Gordon and Nomi Dave received the grant last month from UVA's Democracy Initiative, a UVA School of Law press release reports.
Coughlin said one of the lab's main objectives is "to influence pedagogy both in law school classes and elsewhere."
"What happens to our law and to our democracy when judges, politicians, and other powerful institutions ignore the voices of women, people of color, LGBTQ folks, and indigenous people?" asks the lab's main page. "The Sound Justice Lab is a space for exploring creative and everyday responses to legal failures and erasures. We use research, advocacy, and creative practice to amplify and support the voices often omitted by formal legal processes."
Coughlin and Gordon were motivated by the 2017 "Unite the Right" rally and the "climate for women" on campus to come up with a way to support various gender-based and anti-racist projects.
MORE: Prof: White people use 'cop voice' to establish 'racial authority' over others
Coughlin said the lab's programming will aim to influence classroom pedagogy by bringing different stakeholders and experts together to think holistically about how culture has shaped justice. For example, scholars on legal theory, literary theory and music theory will participate in the lab's "Narrating Rap/Narrating Law" symposium scheduled for Oct. 27-28. She said there's a growing trend nationwide of using rap lyrics to prosecute performers in criminal cases.

"There are many cases in which prosecutors are relying on rap music as evidence of guilt or as a crime itself," Coughlin said. "These cases raise the difficult question of whether people of color are being demonized and even convicted for their artistic expression."
Coughlin and the lab held a symposium on June 29 titled "Demystifying Dobbs" about the recent U.S. Supreme Court case which overturned 1973's Roe v. Wade. During the talk, Coughlin called Roe "a well-settled and precious constitutional liberty" and consistently refers to those who get abortions as "pregnant persons."
For her part Gordon repeated a common progressive refrain that, even though the American Founders did not "intend the right to abortion," they also didn't intend women to attend colleges like UVA. The Founders also "wrote in a time when Black people, brown people, women, Indigenous people, may or may not have had souls," she said.
According to their respective faculty pages, Gordon also is the faculty director of UVA's Equity Center, and her book "Jefferson's Ear" claims that "musical aesthetics mattered deeply in the emergence of race as a political and social category." Coughlin has written numerous articles "exploring the intersections among criminal law, criminal procedure and feminist theory."
MORE: Arizona State hires critical race scholar for its music, dance and theatre school
IMAGES: UVA School of Law screencap
Like The College Fix on Facebook / Follow us on Twitter