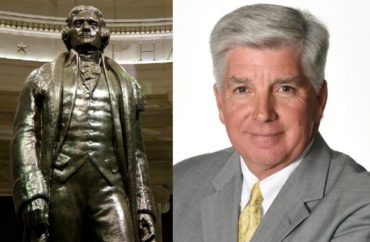 'We must resist the Jefferson Council's agenda'
A conservative alumni group at the University of Virginia is "dangerous" and students "must resist" its agenda, according to an editor for the campus newspaper.
Ford McCracken is worried about the Jefferson Council, especially given that one of its leaders, Bert Ellis (pictured), is now on the university board after failed attempts by The Cavalier Daily and student activists to stop his appointment.
The senior associate opinion editor noted that the group aims "to protect the oldest traditions of the University — namely preserving Thomas Jefferson's legacy and the Honor system," and while this is not " inherently threatening" the group is "out of touch with our values as a community" because it does not hold the exact same views that he, McCracken, holds, when it comes to whether past practices are problematic.
"Simply put, a council that antagonizes meaningful attempts to honestly reckon with our horrific legacy of racism has no place on our Grounds," McCracken wrote in the campus newspaper. "This is a warning for students — we must resist the Jefferson Council's agenda."
There is nothing wrong with wanting to "resist" an agenda that is not your own, but when McCracken says the group has "no place" on campus it sounds like he does not want them to be able to meet at UVA.
Another instance that really ground McCracken's gears was when Brown University Professor Glenn Loury came to campus to speak at a Council event and criticized racial politics. McCracken never mentions the fact Loury is black, but does criticize him for his "problematic rhetoric."
Loury, according to the student newspaper editor, "did not exactly approach the topics in a sensitive manner."
"One of Loury's most controversial takes is that the circumstances of Black Americans who are not well-off today are the result of their own failures to take advantage of 20th century developments in civil rights," the editor wrote. "At one point, Loury's outlandish takes solicited a response from an audience member who said if he had to choose a doctor and only knew their race, he would not choose a Black doctor."
"These racist comments were not exactly shut down by Loury, who believes that white supremacy is a narrative put forth by the left and is a departure from reality, suggesting that institutional racism is not widespread today," the editor wrote.
McCracken also opposes the presence of the Jefferson Council because it disagrees with his views on how violations of the Honor System should be treated.
He wrote:
Bert Ellis has a history of vocally opposing proposed changes from students, specifically saying he is ready for a "fight" to save Honor. Acknowledging and remedying the negative effects left by centuries of racism in our institutions is a task students have taken upon ourselves because we care to leave our school better than we found it. The Jefferson Council continues to espouse an agenda that is antithetical to this progress. They characterize our efforts as a wokeness that needs to be stopped, displacing our viewpoint in favor of their own.
So what? Only McCracken's view is the acceptable one?
Sadly, this is not an uncommon view in higher education. Consider the Yale University newspaper columnist who questioned why a "polite" pro-life group was allowed to set up on campus and engage in dialogue. Or the professor who criticized me for making a political and philosophical argument against what I saw as biased polling questions on transgenderism issues.
Others have recently espoused these ideas as well. For example, there was a University of Wisconsin-Oshkosh historian who criticized a planned debate on climate change because it might be skeptical of the harms of the climate changing.
There is also Holden Thorp, the editor of several academic journals and a University of Washington professor – you better hold his exact policy positions on climate change or else do not even try to get your views published in his publications.
Given McCracken's hostility to even allowing other views to hold an event on campus, he may one day be a great fit to work for Thorp, filtering out any dissenting views and ensuring that only one, his leftist position, is allowed into the public debate.
MORE: UVA student paper demands removal of all things Thomas Jefferson
IMAGES: EllisCapital; LoKinHei/Shutterstock
Like The College Fix on Facebook / Follow us on Twitter