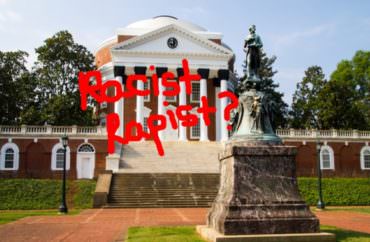 Students at the University of Virginia — founded by Thomas Jefferson — are demanding a statue in his honor on the campus be "contextualized" by adding a plaque to it that denotes his link to "white supremacy, colonization and slavery."
"The statue of Jefferson serves as an emblem of white supremacy, and should be re-contextualized with a plaque to include that history," according to the demand, one of 10 presented to campus officials recently by the school's Black Student Alliance, which has garnered the support of many other campus groups, including the University of Virginia's student government.
An apparent lack of action on the part of administrators helped prompt a protest on the campus Tuesday night that consisted of about 100 students, alumni, faculty and local residents who surrounded the statue of Jefferson and covered it up while chanting "shut it down," according to news reports and videos posted on Facebook.
"The base of the statue was draped with a sign that read 'Black Lives Matter — F—k White Supremacy.' Other members of the crowd carried signs that said 'Thomas Jefferson is a racist and a rapist,' as well as 'End Hate Now.' They also shouted chants of 'What do we want? Justice! When do we want it? Now,' reports the Cavalier Daily student newspaper.
Things reportedly got heated during the protest.
"After the shrouding, tension arose among the crowd when counter-protesters began to capture pictures of the event. In response, the protesters gathered around the statue and criticized those who were passively watching, chanting 'Stop staring! Start fighting!' A small police presence stood in the immediate vicinity," the Cavalier Daily added. "At one point, University Police officers were observed disarming a man who had a firearm. The man appeared to be handcuffed, escorted out of the area and placed into a police car. The University Police did not return a request for comment Tuesday evening."
As for the protest, it comes just a few weeks after student groups on campus led by the Black Student Alliance issued a list of demands in the wake of the violent events in Charlottesville. The University of Virginia was where a white nationalist "Unite the Right" nighttime torch rally took place in mid-August, an event that prompted some skirmishes and was strongly condemned by university leadership.
UVa's Black Student Alliance demands have been endorsed by dozens of other campus groups and the student government.
MORE: University of Missouri students demand Thomas Jefferson statue removed from university, call him 'racist rapist'
MORE: Thomas Jefferson statue at Columbia protested as 'symbol of violence against black and brown bodies'
The student government unanimously endorsed the demands in late August after a heated debate, according to the Cavalier Daily:
One of the demands on the list specifically references the statue of Thomas Jefferson north of the Rotunda — the same site where a torchlit white nationalist march on Aug. 11 turned violent.

"The statue of Jefferson serves as an emblem of white supremacy, and should be re-contextualized with a plaque to include that history," reads one of the demands.
Other speakers objected even more strongly to the mention of Jefferson as a symbol of white supremacy.

Sean Rastatter, a third-year Engineering student, claimed that sentiment was wrong altogether, saying Jefferson actually tried to make it legal to emancipate slaves in Virginia.

"Thomas Jefferson was not a white supremacist, we are too quick to condemn him," Rastatter said.

An audience member responded to his comment by yelling, "He raped black girls."
After Birkenthal gaveled the meeting back to silence, Rastatter responded.

"He did. And that's absolutely awful. But, so did everyone at that time," he said, sparking further shouts from the audience.
Here is the full list, called "Demands of the 'March to Reclaim Our Grounds'"
1. Remove the Confederate plaques on the Rotunda. An appropriate place would be in a museum or in Special Collections.

2. Declare the lawn a residential space. Concealed arms and open flames should not be allowed within this space.

3. Acknowledge the $1,000 gift to the University's Centennial Fund received from the KKK in 1921; re-invest this amount, adjusted for inflation, into existing UVa and Charlottesville multicultural organizations; and include this racist history at UVA into education surrounding the Bicentennial.

4. White supremacist hate groups, particularly UVA alumni Jason Kessler and Richard Spencer should be explicitly denounced and banned from campus. They have already incited and perpetrated violence against students past the point of free speech.

5. All students, regardless of area of study, should have required education (either inside or outside the classroom) on white supremacy, colonization, and slavery as they directly relate to Thomas Jefferson, the University, and the city of Charlottesville. The current curriculum changes only affect the College of Arts and Sciences and allow students to focus in on aspects of difference of their choice.

6. UVA's historical landscape must be balanced. The statue of Jefferson serves as an emblem of white supremacy, and should be re-contextualized with a plaque to include that history. Additionally, more buildings named after prominent white supremacists, eugenicists, or slaveholders should be renamed after people of marginalized groups.

7. Expand the working group on University response to the events of Aug. 11-12, 2017 to represent students of color and those affected by the violence of Aug. 11-12.

8. As of last year, the percentage of African American undergraduate students enrolled in the University was 6.4%. The University must take action to ensure that as a public university, this number is reflective of state demographics at a 19.6% proportion. Given the impact of recent events, action on this step is crucial.

9. In 2016, the percentage of African American faculty was 3%. This percentage is unacceptable and disproportionate to the number of African American students. This disparity exists across all minority groups. Thus, proportion of faculty for an underrepresented group should strive to match the proportion of the student population of that group at minimum.

10. Issue a strategic and actionable diversity plan, with input sourced from minority student leadership, as done by other peer institutions such as Georgetown University, Brown University, and Virginia Tech. This plan should include a special emphasis on improving diversity and inclusion for faculty, staff, and students of color, as well as relations with the Charlottesville [sic] community.
According to an article in Inside Higher Ed, campus leaders are considering the demands.
"University spokesman Anthony P. de Bruyn said that President Teresa Sullivan will meet soon with the authors of the demands to discuss their concerns," IHE reported. "Faculty will need to discuss requests related to curriculum, de Bruyn said. Others may be referred to a working group that Sullivan established to asses how the university handled the protests on campus."
h/t: Washington Times
Like The College Fix on Facebook / Follow us on Twitter