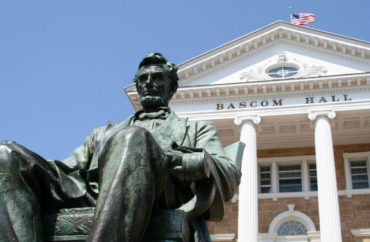 EXCLUSIVE: Chancellor fielded nearly 200 emails as protests from racial demonstrators demanded Lincoln statue be removed from campus
As mobs tore down statues all over America last summer to protest the death of Minneapolis man George Floyd at the hands of police, University of Wisconsin-Madison Chancellor Rebecca Blank's inbox filled up with messages from angry alumni demanding she keep a statue of Abraham Lincoln on campus.
Between June and November, Blank's office received 192 emails, 80 percent of which supported keeping the UW's landmark Lincoln statue on Bascom Hill, according to a review of the emails obtained by The College Fix through a public records act request.
Blank has consistently said, despite Lincoln's "complex" legacy, which "contains actions which, 150 years later, appear flawed," she opposes removing the statue.
"Chancellor Blank considers a wide range of factors when considering an issue like this, including input from current students, faculty, staff, alumni and others," university spokeswoman Meredith McGlone told The College Fix in an email.
Of the emailers supporting Lincoln, two dozen specifically threatened to withhold donations or other sorts of funds from the university if it were to give in to demands of activist students who called for the Lincoln statue to be removed.
"I will cease immediately all donations to the university and its student organizations" if the statue were to be removed, wrote one alumnus, adding, "I will also cancel my season tickets to the UW football and men's basketball teams. And finally, I will engage in a very public and messy campaign to encourage my fellow alumni to do the same."
"Should you give in, that will end my support of the UW, much as that action would break my heart," wrote another emailer. "My donations are done," wrote another. "Only shutting off the money flow causes University leadership to listen."
Others threatened to withhold support of sports teams.
"My wife and I will immediately discontinue our support of the Wisconsin football program and indeed will have spent the last dollar we will ever spend in the city of Madison," emailer Greg Sinner wrote. "Moreover, we will become vocal advocates for taking the same actions among our friends and associates, many of whom are Wisconsin season ticket holders."
In the emails provided to The College Fix, the identities of the emailer was typically redacted if they made a specific threat to withhold funding.
"It is important to the university and to the people of the state of Wisconsin that independent financial support to the university is not diminished," a document accompanying the emails read.
Identities of current students and parents of current students were also withheld.
Other emailers took the opposite approach, praising Blank for her public statements in support of keeping the statue as-is and praising Lincoln's accomplishments.
"Mr. Lincoln's most enduring legacy is the preservation of the union; shall we not now maintain this will-to-preservation in the face of forces driven by division," emailer Christopher Vinson wrote.
"A concession to these forces would be an aberration of history, reason and patriotism. I wish you all luck in navigating these strangest of seas," Vinson added.
The emails typically came in several spurts.
The first surge came in late June, after The College Fix and others reported that a petition had been started by student activists to remove and replace the Lincoln statue. Then, on July 1, when Fox News picked up the story.
The next group came in October, when the student government passed a resolution calling for removal of the statue; then again, in November, after legal commentator Jonathan Turley criticized the effort to remove the statue.
Not all the pleas to save Abe came from the Trumpist wing of the Republican Party.
"Who knows, maybe the University will be able to teach the president who Frederick Douglass is," wrote Jesse Lyne, suggesting the school, instead of removing Lincoln, should add memorials to more African-Americans.
"I am in support of Black Lives Matter but I feel this statue needs to stay," wrote Noah Bolton. "I feel the University of Wisconsin should erect a statue near or next to Bascom hall of a famous African American that has ties to the UW."
On the flip side, the overwhelming majority of the emails sent to Blank supporting removal of the statue were in the form of a standard email sent between June 10 and June 17.
The standard email declared the sender stood "in solidarity with the demands of the Wisconsin Black Student Union," which included removing the Lincoln statue and Chamberlin Rock, a boulder on campus that one media report from 1925 said may have been referred to as a "N****rhead Rock," a common term at the time for large, dark rocks at the time.
Despite no evidence that term was ever used on campus to describe the boulder, the school has moved ahead with plans to remove it this summer.
Other emailers chastised Blank for supporting Lincoln.
"The statements you have made about the Lincoln statute are nothing short of white supremacist ideology," wrote one anonymous emailer. "We are an institute of learning and we do that in every discipline without statutes. [sic]"
"To say that we should leave Lincoln but learn his complicated past is to say that we do not care about the violence he, and this institute, has perpetrated on people of color."
Wrote another student: "All I would like to say is that I would be much prouder and more comfortable attending this school if the statue of Abraham Lincoln, who held mass executions of the Native peoples of America, was removed from campus."
"Acknowledging that the University sits on Native land means nothing when a murderer of Native Americans sits atop Bascom Hill. I also believe that the Chamberlain rock should be removed, which existence [sic] has hurt black students attending or wanting to attend the University of Wisconsin-Madison."
At one point, 1968 alumnus Rich Roberts circulated an email to other UW graduates requesting "round-the-clock protection of the Lincoln statue by the presence of alumni at all times." He offered to take the first shift from 5:00 to 6:00 on July 1.
"I was just surprised there was no widespread concern among alumni," Roberts told The College Fix. "It seemed a threat from the vandalism and looting on State St. and the national attack on monuments."
Roberts provided The Fix with a photo of himself guarding the statue.
Campus police, however, were not amused. After Blank's office alerted campus police to Roberts' plan, UWPD Director of Communications Marc Lovicott responded the UWPD "is involved and we have a plan in place."
"Maybe that will deter him from showing up," wrote Lovicott in response to the chancellor's office. "The last thing we need is vigilantes getting involved."
That did not, however, deter Roberts.
"The UW police told me they had the statue and grounds covered," he said. "However, I never saw the presence of any police while I guarded the statue for about a week."
Blank's office responded to virtually all the Lincoln-related correspondence with a form email that simply reiterated her statement in support of keeping the statue while recognizing "that the very act that created these universities relied on money from land expropriated from Native Americans."
"I believe that Abraham Lincoln's legacy should not be erased but examined, that it should be both celebrated and critiqued," Blank said in her statement. "To give just one example – without Lincoln, public land-grant universities like ours might not exist. These universities have been engines of social mobility and economic growth for citizens who would never otherwise have had access to higher education."
One Lincoln-related email sent to Blank suggested that a plywood box be placed over the statue until the riots calmed down. Another implored the school to put a mask on the statue to provide a good example for students. Blank's office responded that two Bucky Badger statues on campus had been fitted with masks, but that The Great Emancipator would remain free of a face covering.
MORE: Student activists seek to remove Lincoln statue at UW-Madison
IMAGE: Eric E. Johnson / Flickr
Like The College Fix on Facebook / Follow us on Twitter