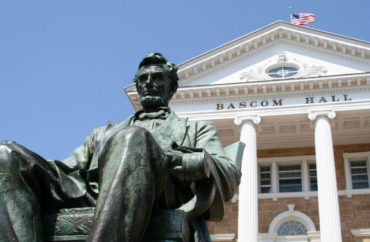 The University of Wisconsin-Madison student government recently voted to approve a resolution that supports the removal of the school's famous Abraham Lincoln statue, arguing it serves as a remnant "of this school's history of white supremacy."
The Associated Students of Madison's resolution, approved Sept. 29, calls for campus fixtures billed as racist by activists to be "reevaluated and then removed and/or replaced based on inputs from BIPOC students."
Among those items is the university's historic 111-year-old Lincoln statue that sits atop the common passing area Bascom Hill. Another is Chamberlin Rock, a large glacial boulder that has been a campus fixture for 95 years.
The resolution states their removal would "create an inclusive and safe environment for all students." It passed unanimously.
The student government vote comes on the heels of a protest in September, during which students marched across campus wearing all black, bringing attention to their unmet BIPOC demands for the school.
The top demand listed on that petition is: "Remove the Abraham Lincoln monument located at the top of Bascom Hill and replace it with someone who stands for the justice of all people."
Associated Students of Madison Diverse Engagement Coordinator Chrystal Zhao explained in an email to The College Fix why the student government sided with the protestors.
"First, I would like to say that not all representatives in ASM agree that [the] Abraham Lincoln Statue should be removed. With that said, Abraham Lincoln is a representation of ethnic cleansing of indigenous folks and the fact that UW-Madison stands on stolen land," Zhao said.
"Many students do not feel comfortable seeing him every day when we used to walk to classes. And his presence on Bascom shows that UW-Madison does not care about the 'shared future' plan we have with Ho-Chuck people and other first nations."
The College Fix also reached out to Robyn George, chair of ASM's Legislative Affairs Committee, who argued Lincoln should not be idolized.
"There's a really great book by James Loewen called 'Lies My Teacher Told Me.' This and many other books touch on the harm of idolization of political leaders. The idea of taking down the Lincoln statue is tough to consider when we were only taught the good things he's done for America, such as passing the 13th amendment. But in fact, Lincoln ordered the largest execution on American soil: 38 Dakota peoples," George said via email.
"From an indigenous perspective, it seems extremely hypocritical for our university to have land recognition statements at the beginning of our meetings, buildings named after the Ojibwe name for modern day Madison, and other actions while also having a giant statue Abraham Lincoln, a huge threat to the native population, sitting at the top of one of the highest points on campus."
George also included a recommendation in his statement to include a plaque near the statue listing Lincoln's "wrongdoings."
"At the bare minimum, Chancellor Blank should follow the legislation passed by student council in 2017 (Legislation 23-1005-02) ordering the placement of a plaque next to the Lincoln Statue recognizing his wrongdoings. If not, we need to ask ourselves how future generations might view corrupt and harmful political leaders of today as we continue to erase their wrongdoings from history," George said.
University of Wisconsin Chancellor Rebecca Blank issued a statement in June in response to a growing movement of students who sought to remove the statue due to Lincoln's "questionable" history of race relations. In her statement, the chancellor explained that the statue is an important campus fixture and would not be removed.
"The university continues to support the Abraham Lincoln statue on our campus. Like those of all presidents, Lincoln's legacy is complex and contains actions which, 150 years later, appear flawed. However, when the totality of his tenure is considered, Lincoln is widely acknowledged as one of our greatest presidents, having issued the Emancipation Proclamation, persuaded Congress to adopt the 13th Amendment ending slavery and preserved the Union during the Civil War," she stated.
"As the leader of UW–Madison, I believe that Abraham Lincoln's legacy should not be erased but examined, that it should be both celebrated and critiqued," Blank added. "To give just one example – without Lincoln, public land-grant universities like ours might not exist."
"These universities have been engines of social mobility and economic growth for citizens who would never otherwise have had access to higher education. Yet we recognize that the very act that created these universities relied on money from land expropriated from Native Americans."
Blank's statement did little to quell the movement, however, as students continued to call for the statue's removal.
The student government vote is the latest entry in the ongoing battle over Abraham Lincoln on Wisconsin's campus.
In 2015, a student led Black Lives Matter protest called for Lincoln's removal. A year later, in 2016, the statue was draped in a black tarp during another protest.
In 2017, UW students called for a similar plaque to be placed near the Lincoln statue denoting the president's involvement in condemning 350 Native Americans to death. Blank, however, noted that Lincoln played a "restraining role" and said that the statue would remain.
MORE: Is University of Wisconsin-Madison the next Mizzou? Some say 'race war' brewing
IMAGE: Eric E. Johnson / Flickr
Like The College Fix on Facebook / Follow us on Twitter