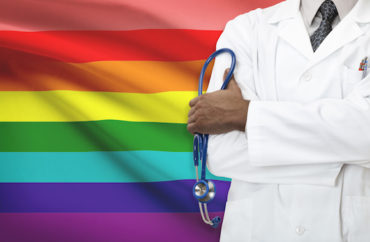 Resources include referrals to doctors, information on how to self-inject hormones 
The largest public university in Wisconsin offers its students a step-by-step guide on how to change their genders under its University Health Services program.
The University of Wisconsin-Madison's "Trans Health" webpage provides direct links to five doctors in the area who provide hormone replacement therapy and explains the university's health plan "does not require a student to get a letter from a mental health provider in support of hormones as long as they can provide informed consent for care."
All a student needs to do to obtain gender transition treatment is show they understand "the risks and benefits, as well as reversible and irreversible effects, [and are] able to use this information to make a decision," the website states.
The university's Trans Health webpage provides a step-by-step list on how to start hormone replacement therapy.
The process is to book an appointment through the UHS online portal, meet with a doctor, sign the informed consent, then undergo a follow-up appointment during which the student and physician will "review lab results, discuss potential medical contraindications, and, if appropriate, receive a prescription for HRT," it states.
The webpage also details how students may obtain gender transition surgery.
"Many bottom surgeries require a lengthy recovery period and may require numerous procedures, and it is not uncommon for complications to occur," it states. "Our mental health providers will work with you to help build and support your resilience in preparing for any post-surgical needs you may have."
The UW-Madison Trans Health webpage includes a variety of additional resources, including a link to Planned Parenthood's "Hormone Therapy Self Injection Videos."
When asked about the university's extensive support for and coverage of gender transition services, UW-Madison's Director of Media Relations Kelly Tyrrell said, "Decisions about individual health care at the University of Wisconsin–Madison are made between patients and their providers, following evidence-based medical practices."
"University Health Services supports and affirms these patients and their providers, and continuously strives to improve the care provided to meet the needs of the campus community."
Warren Scherer, assistant dean and director of the Gender and Sexuality Campus Center, declined to comment. The center is actively involved in supporting students on campus who wish to transition.
"At UHS, we collaborate with the Gender and Sexuality Campus Center to help better meet the needs of historically underrepresented communities. By listening to members of [transgender and gender nonconforming] communities and following their lead, we are working to understand the impact of oppression on health care disparities and actively work to eliminate bias in the delivery of health care," a June 2022 news release from the university stated.
UW-Madison's University Health Services began offering hormone replacement therapy in 2013, according to its website. At the time, there was a "requirement that students first meet with a mental health provider to complete an assessment to receive a letter in support of this care."
But the university's website explained that they ended this policy, arguing it "increases stigma for a community that has disproportionate healthcare disparities, and this requirement sends the message that [transgender and gender nonconforming] people do not understand themselves, their needs, or their own experiences."
"Informed consent removes the requirement of meeting with a mental health provider prior to being able to access medical care, thereby making the process of beginning HRT consistent with the process for starting other medications," the university's Trans Health webpage states.
UW-Madison also hosts a Trans Counseling Advocacy Research and Education group. It describes itself online as a "social justice driven community … conducting research that affirms the experiences of Two-spirit, trans, nonbinary (2STNB), gender-nonconforming, and gender diverse individuals."
"…We embrace empowerment, reflexivity, and liberation in our advocacy for and with 2STNB people."
UW-Madison is no outlier; nearly 115 colleges and universities help cover the medical costs for transgender students.
UC San Diego's medical school, considered one of the best in the nation, also has published detailed instructions for students on how to change their gender under the student health plan.
MORE: Over 100 schools now offering transgender medical coverage for students
IMAGE: Niyazz / Shutterstock
Like The College Fix on Facebook / Follow us on Twitter