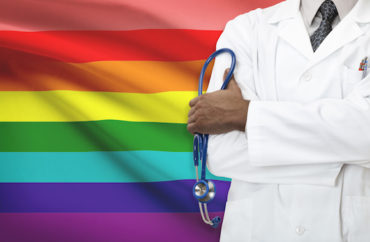 ANALYSIS: One part of larger push at top-rated medical school to advance transgender treatments
The University of California San Diego, which houses one of the most prestigious medical schools in the nation, has rolled out the red how-to carpet for students seeking to change their genders.
The public institution has published a detailed, step-by-step guide to assist biological female students who want to remove their breasts or biological male students who want to alter their penis into a vagina as part of a comprehensive medical gender transition treatment plan.
The UC Student Health Insurance Plan covers both hormone therapy and gender reassignment surgery, including what's called "bottom surgery," "top surgery," "gender conforming facial surgery," "tracheal shaves" and "vocal training."
The insurance plan even covers travel expenses, according to a 2021-22 UC Student Health Insurance Plan informational brochure.
UC Student Health Insurance… by The College Fix
Most of the procedures require precertification, and also have deductible and co-insurance payments. But university officials have provided students with a detailed map to get there. Their how-to list walks through the steps needed to gain approval for gender reassignment surgery.
Students are told to first schedule an appointment with a student health primary care provider, who will provide initial hormones, hormone replacement therapy, x-rays, labs and pharmacy services, and make referrals. The phone numbers are provided to connect with such doctors.
Next, students are advised to take their referral to a specialist for treatments such as surgery, vocal training, psychology or psychiatry, or hair removal.
They are then told to "Secure an Anthem Case Manager to assist you in finding a specialist provider and facility that you are comfortable with, including UC San Diego Health Specialists," and links to a UC San Diego Health webpage that lists a parade of doctors in the area.
Underscoring these resources, a UCSD Student Health Services webpage offers a lengthy Q&A on the process and requirements to obtain hormone treatments and gender reassignment surgery.
UCSD is no outlier — nearly 115 colleges and universities help cover the medical costs for transgender students. But UC San Diego's medical school — considered one of the best in the nation — often sets the stage for best practices that other campuses follow.
UC San Diego hosts a Chancellor's Advisory Committee on Gender Identity and Sexual Orientation Issues. Its webpage touts UC San Diego physicians who co-lead the Center for Gender-Affirming Care at Rady's Children Hospital, which offers pediatric transgender services.
"We've seen a huge increase in the number of patients being seen," Dr. Maja Marinkovic, professor of pediatrics at the UC San Diego School of Medicine and the center's co-director, told the UCSD News Center in 2016.
Currently, the pediatric center offers support groups, insurance advocacy, referrals to legal support, surgical referrals, vocal therapy, and referrals for hair removal, among other services, according to its website.
Last December, UCSD hosted its third-annual "Transgender Health Care Symposium" to advance the knowledge, acceptance and practice of "gender-affirming care" within the medical community.
The event featured sessions on "gender-sensitive cultural awareness, behavioral health care, primary care, and medical and surgical gender-affirming interventions … to help providers from varied disciplines care for transgender and non-binary individuals in a sensitive and effective manner," the symposium's website stated.
At its conclusion, participants were expected to be able to "discuss gender-affirming surgeries available at UC San Diego Health" and "describe the requirements needed for mental health providers to provide support for gender-affirming surgeries," among other goals.
Sessions at the Dec. 2021 event included "Gender Affirming Pelvic Surgery" and "Endocrine and Fertility Care in Gender Diverse Individuals."
UC San Diego Health is also set to launch a transgender health clinical trial on women ages 18 to 35 led by Tracy Harrison, assistant professor of obstetrics, gynecology and reproductive sciences. The study aims to determine the effects of hormone therapy on women transitioning into men, its online description reads.
UCSD typically also hosts a "Transgender Week of Visibility" observance each year. The La Jolla-based institution also offers a wide-range of policies to support transgender students, including gender-inclusive bathrooms and preferred name and pronoun policies.
The transgender programs and policies are in addition to a new report on UCSD's med school that details how its leaders train future doctors to use critical race theory in health care.
Some medical school professors today reportedly deny biological sex to avoid being called transphobic and become targets of campus cancel culture mobs.
An endocrinology professor at a top-tier med school in California, for example, apologized for saying "pregnant women," because it "implies that only women can get pregnant," according to an investigative report that did not name the specific school.
MORE: Over 100 schools now offering transgender medical coverage for students
IMAGE: Niyazz / Shutterstock
Like The College Fix on Facebook / Follow us on Twitter