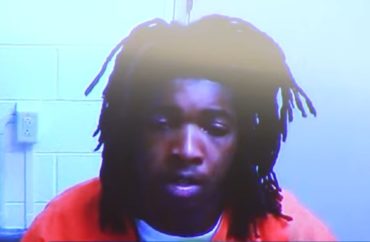 UPDATED
Allegedly murdered Jerry Smith after the pair had sex
A former Virginia Tech football player begins his trial today for the alleged murder of a homosexual, cross-dressing man named Jerry Smith.
Montgomery County prosecutors accused Isimemen Etute (pictured) of murdering Smith, a 40-year-old homosexual man who allegedly presented himself as a woman during a Tinder date with Etute. He pleaded not guilty on May 19 to the charge.
His trial is expected to take two days, according to the Virginia judiciary database. The county declined to provide a police report because the case is ongoing.
Virginia Tech did not respond to an inquiry on May 23 about Etute's current status as a student. He is not listed on Virginia Tech's football roster as of May 23.
Etute's attorney James Turk has said in earlier court hearings that his client and Smith "had matched on the dating site Tinder, but Smith's Tinder profile indicated he was a woman named Angie," according to WDBJ 7. "The Commonwealth's Attorney says the two first met [April 10, 2021] for oral sex, and Etute didn't realize Smith was a man until they met again [May 31, 2021]."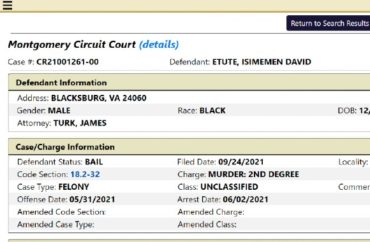 "The Commonwealth's Attorney says Etute punched Smith five times in the head, making Smith fall, at which point Etute stepped on Smith's head until blood was bubbling from him," WDBJ reported. "An exam indicated every bone in Smith's face was broken, and he had missing and broken teeth."
Turk has not responded to a request for comment from The College Fix sent in the past three weeks. The Fix asked about potential federal hate crime charges against Etute. Though an investigation has been launched, no federal charges have been filed yet.
Turk asked the judge on Monday to be allowed to use an outlawed "gay panic defense." The commonwealth prohibited these defenses in 2021, described as a "legal strategy that asks a jury to find that a victim's sexual orientation or gender identity/expression is to blame for a defendant's violent reaction, including murder."
"It is not a free-standing defense to criminal liability, but rather a legal tactic used to bolster other defenses," according to the LGBTQ+ Bar, an organization that works to eliminate the strategy.
However, in May 2021, when Etute allegedly murdered Smith, gay panic defenses were still allowed. Turk wants his client to be able to use the defense during the trial.
Federal hate crime charges under consideration
The murder of a cross-dressing homosexual man may prompt federal charges too.
FBI agents filed three sets of search warrants covering Etute's phone, his Tinder account, and the phones of other football players who were also allegedly involved in the case.
Robert Ballou, a federal judge, granted several requests by the agents to keep the records under seal, but the order was lifted in March after the expiration of Ballou's order. The Roanoke Times did not publish copies of the warrants it reviewed.
Brian McGinn, a spokesman for the United States Attorney's Office of the Western District of Virginia, told The College Fix on May 3 that his office "had no comment" on the case.
The Fix reached out to Equality Virginia, an LGBT advocacy group multiple times via email requests in the past three weeks. The Fix asked about the criteria for hate crime charges and whether a person is obligated to share their gender with prospective sexual partners. The group did not respond.
MORE: Virginia State student out on probation charged with murder
Editor's note: The article and headline have been updated to report that Etute is a former VA Tech player.
IMAGE: WAVY 10/YouTube
Like The College Fix on Facebook / Follow us on Twitter