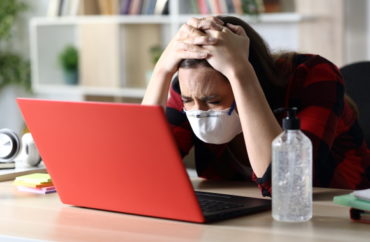 'You will be asked to sign a form,' medical school dean says
Imagine that you are a student of Valparaiso University's College of Nursing and Health Professions. Your school has had a vaccine mandate in place since April, but you have requested and been granted an exemption.
The reason for your exemption isn't super important for this column but maybe you've already had COVID and thus have antibodies to fight it off in the future. Maybe you have some ethical qualms about it. Maybe you see many of the Delta "breakthrough" cases and think, "These vaccines may have been oversold."
You thought you had this sorted months ago, but then, three days before you are supposed to go back to classes at the Indiana university, you get an email from dean Karen Allen informing you that "if you are unvaccinated, and have an exemption from the University, when you return and the semester begins, per CONHP policy, you will be asked to sign a form stating your understanding that if we cannot educate you experientially in the area you have chosen, you will need to chose another major to take here at Valpo."
If your attention wandered there, what the dean told you, just as the new semester is about to start, is that you will probably be required to pick a different major to graduate.
Which is a problem if you planned to be a nurse or medical professional.
Dean Allen explains that the "College of Nursing and Health Professions is not requiring the vaccine." Instead, "requiring vaccinations was a university decision."
Further, hospitals where medical students must work "are in the midst of communicating if they are requiring the vaccine or not. CONHP is working within facility parameters."
In more ways than one, this decision is out of their hands, and you understand that.
But that still leaves you with a heck of a call to make with only three days before classes start. Do you chance it, withdraw, switch majors, swallow your objections and try to get the vaccine quick?
"I feel like the announcement could have been made maybe a week or two prior and that would've been more effective for communicating with students," an anonymous student with a gift for understatement tells the Valpo Torch student newspaper. "If people suddenly are now having to make the decision as to whether they were going to continue their school career here at Valpo, this is not enough time to make that decision."
And yet, that's the decision that you are now faced with.
I don't have a polemical point to make here other than to say that many college students this fall, vaccinated or not, find themselves faced with similarly bizarre situations and choices.
Schools are mandating vaccines, mandating masks, mandating regular COVID tests, going online only, changing things up if someone so much as coughs funny. COVID and COVID fears swung through campuses like a wrecking ball last school year. We hoped the worst was over, but now that large dangling object looks to be making another pass.
MORE: Valparaiso axes its Chinese-funded Confucius Institute after attorney general begins probe
IMAGE: Pheelings_media.Shutterstock
Like The College Fix on Facebook / Follow us on Twitter