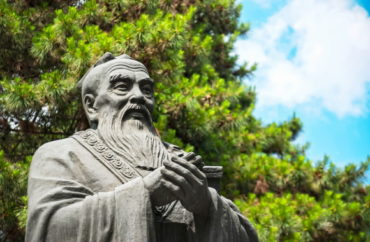 University president suggests AG's investigation could provoke more Asian-American hate crimes
Valparaiso University this week announced it would be closing the Chinese government-financed Confucius Institute it had housed on his campus for nearly a decade. The decision came after Indiana Attorney General Todd Rokita announced a civil investigation into whether "the Chinese government has attempted to exert political influence and manipulate the attitudes and beliefs of Hoosiers."
The school, however, has denied any wrongdoing, insisting that closure of the institute had more to do with the potential loss of federal funding than Rokita's probe.
"A federal law, the National Defense Authorization Act, already prohibits the Defense Department (DOD) from funding research at any university with a Confucius Institute," university president José Padilla wrote in an email to the campus community this week.
"DOD funding is not the only federal funding at risk, Department of Education (DOE) funding may also be," wrote Padilla. "Just this past March, DOE funding and Confucius Institutes were intertwined in a bill, S.590, which the U.S. Senate passed by unanimous consent. This bill would impose tight restrictions on funding from DOE (other than student financial aid) to colleges hosting Confucius Institutes. A potential cut-off of DOE funding would be devastating to our financial position. This is not a risk we can take."
According to Rokita, his investigation is aimed at identifying and "getting to the bottom of the true intent of any relationships between Valparaiso University's programming and the Chinese Communist Party."
After elected officials began putting pressure on schools, the number of Confucius Institutes has recently waned. Once numbering over 100, fewer than 26 now remain. Since 2006, the Chinese government has provided more than $158 million to U.S. schools for Confucius Institutes.
Rokita's office has questioned how Valparaiso has spent over $1.1 million in federal funds it received between 2010 and 2019.
"These documents filed by Valparaiso University with the U.S. Department of Education do not indicate precisely how this funding was used, but the university's webpages explaining the partnership make clear that not only did programs target Valparaiso University students but also younger students through sponsorship of programs at area K-12 Indiana schools," Rokita said in announcing the investigation.
But Padilla insists that the closing of the Confucius Institute had nothing to do with Rokita's probe.
"This wave of closures and the other factors above are the reasons for my closing CIVU, not the Indiana Attorney General's (AG) investigation into CIVU," Padilla wrote. "The purpose of that investigation is to determine if Valpo did not "disclose its financial ties" with the foreign source of CIVU funding, pursuant to Section 117 of the federal Higher Education Act. DOE implements that law. Valpo has followed that law by regularly reporting to DOE China's funding of the CIVU."
"While we strongly dispute the allegations the Indiana Attorney General has made, we will respond appropriately to his request for documents and information. And we will also voluntarily share those same documents with the DOE which is not investigating our compliance with the Higher Education Act," Padilla wrote.
The school's president also warned Rokita's investigation may stoke anti-Asian-America hate crimes on campus.
"Anytime negative scrutiny surrounds China or its affiliates, there is a very real risk of a backlash against members of our Asian-Pacific Islander (API) communities," he wrote. "The CIVU building already sustained vandalism after the announcement of the AG's investigation. We will be ever vigilant to protect our API community from verbal, physical and online attacks. We cannot allow to occur again what happened to Asian-Americans-as a result of accusations made during the COVID-19 crisis."
While the Confucius Institute will close in six months, Padilla says the school is looking to replace it with "a new program to continue the cultural exchange of music and language with China and other countries."
"We will ask our music, language and international studies faculty to help us create this program which will operate without funding or staff from China," he wrote.
MORE: Indiana attorney general to investigate Chinese influence on state universities
IMAGE: A Photo Story / Shutterstock
Like The College Fix on Facebook / Follow us on Twitter