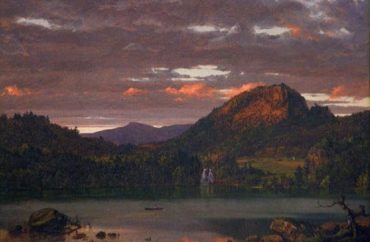 Art associations demand school keep millions of dollars worth of paintings
Valparaiso University has a good idea on how to finance new dorm construction without simply taking on more debt or raising housing fees on students – it plans to sell at least three pieces of art that could be worth a total of $20 million.
"Valpo spokesperson Michael Fenton said the three paintings are [Georgia] O'Keeffe's 'Rust Red Hills,' Frederic E. Church's 'Mountain Landscape' and Childe Hassam's 'The Silver Vale and the Golden Gate," The Times, a local newspaper in Indiana, reported on Tuesday.
"He declined to provide any more details about the situation but said the university will be making an announcement of some kind in the coming days. No sale has been finalized."
The paper reported the O'Keeffe painting could be worth $15 million (based on a 2016 valuation), while "Silver Vale" "was valued at $3.5 million in 2009" and the Church painting (pictured) "was valued at about $2 million in 2008."
The decision drew criticism from several art organizations that want the university to keep the paintings.
The paper reported:
The Association of Art Museum Directors, American Alliance of Museums, the Association of Academic Museums and Galleries and the Association of Art Museum Curators released a joint statement…condemning the move and asking the university to reconsider its decision.
"College and university art museums have a long and rich history of collecting, curating, and educating in a financially and ethically responsible manner on par with the world's most prestigious institutions," the groups wrote in their statement.
"That a campus museum exists within the larger ecosystem of its parent educational institution does not exempt a university from acting ethically, nor permit them to ignore issues of public trust and use the museum's collections as disposable financial assets."
One art professor at the university claimed that "nobody" thinks the plan is "reasonable."
"[Students] are also a little unnerved that they were not communicated with about whether these paintings were important to them or not," Professor Aimee Tomasek told the Post-Tribune.
MORE: Valpo U. art magazine gives award to image of police station burning
But the Lutheran university is correct to sell off luxury items to directly contribute to the future success of the university by building dorms.
First, the university is wise not to take on more debt, which only saddles future students with potential tuition increases or budget cuts.
Second, these paintings are, at the end of day, just items. It might be a different scenario if the university owned priceless religious artifacts, such as a rare copy of the Bible. But these are simply paintings that can be enjoyed by someone, either a private art collector or another museum.
That is why the art advocacy groups, academics and students are wrong to criticize the university for treating the painting as "disposable financial assets." But that's what collectible art is, that is why it goes up for auction, and arguably, its value provides an incentive for preservation.
Paintings are like classic cars – we can enjoy them, we can look at them – and we can sell them.
The purpose of a university is to educate students and school leaders have a duty to provide that service at an affordable price. This is a good decision by the university.
MORE: Art professor calls Hunter Biden's paintings 'amateur'
IMAGE: Valparaiso University
Like The College Fix on Facebook / Follow us on Twitter