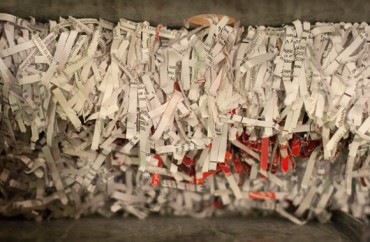 An undercover reporter from James O'Keefe's Project Veritas actually manages to get an official from Vassar College to shred a copy of the US Constitution because of its "harmful" and "disruptive" aspect.
Vassar Assistant Director of Equal Opportunity Kelly Grab willingly obliges the reporter who acts quite upset at having been handed a copy of the Constitution the previous week while on campus.
"It's just I've been kind of hiding out in my room ever since kind of scared, so, finally somebody told me I should maybe come talk to you about it and see if there's anything that can happen or anything … They were handing the Constitution out on campus," the reporter says.
"They were handing it out and as soon as I saw it you know I started to not be able to breathe, hyperventilating … [m]y vision went blurry and I just—kind of just lost control."
Grabs then asks, "And so what I think you're sharing with me is that your interaction in receiving this was harming, right?"
Noting that "I'm sure there are also some people who, who maybe don't understand the impact that this might have on folks," Grab asks the reporter whether there is anything that can be done to create an "educational moment" regarding the issue.

"Yeah, I guess, maybe," the reporter responds, suggesting that "maybe the Constitution should be removed from campus permanently."

Grab stops short of endorsing that idea, but asks the reporter if there is anything she can do with the copy of the Constitution that was brought into the office.

"Honestly, can we just like destroy—like is there a shredder or something? Like I think it might be really therapeutic," the reporter offers.

"Cathartic … Yes, I think we have a shredder in the front office there," Grab replies. "Did you want to do it with me?"

The video then show Grab and the reporter enter another office, where Grab proceeds to shred the entire Constitution, page by page.
Vassar's Faculty Director of Affirmative Action Colleen Cohen "was even more indulgent": "Can I destroy this [Constitution]?"
"I'll put it through a shredder," she says. "Yeah, I'll put it in a shredder." (But Cohen indicates she has to wait until her secretary came back in order to actually do it.)
Two professors at Oberlin College were likewise disparaging of the country's founding document, with one noting "[t]he Constitution in everyday life causes people pain," and the other adding "[t]he Constitution is an oppressive document."
Like The College Fix on Facebook / Follow us on Twitter
IMAGE: Darren/Flickr