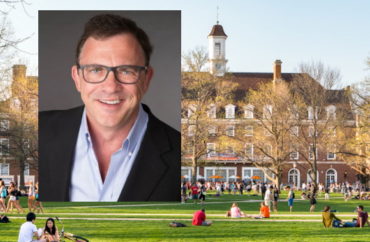 Longtime law professor and journalist Glenn Reynolds launches new Substack to delve deeper into topics such as higher ed
Glenn Reynolds was sounding the alarm on higher education insanity before most Americans even realized it was a problem.
The University of Tennessee College of Law professor and journalist used to run a series on his blog back in the early 2000s called the "Berkeley Hate Watch Update," in which he would flag whatever leftist dogma was coming from the notoriously progressive campus at the time.
Fast-forward to today, and Reynolds is busier than ever.
In addition to writing books on education woes, posting articles daily about the latest campus culture wars on his popular news aggregation blog Instapundit, and delving into academic wokeness concerns for some of his columns in the New York Post and USA Today, Reynolds recently launched his own Substack.
As a newspaper columnist, he said he is often forced to follow the latest news cycle, and keep his columns to a tight word count, too. Glenn's Substack, as it's called, is not fettered to such constraints.
"I like having the freedom to write about what interests me," Reynolds told The College Fix in a telephone interview this week, adding he plans to write about higher education, but it won't be the only topic he addresses. One of his first posts was on "A 14-Year Old's Wisdom."
Another recent piece is on higher education, an interview with University of Michigan-Flint emeritus economics Professor Mark Perry, who has made a name for himself as a one-man army exposing DEI costs and forcing public institutions to stop discriminatory practices.
Perry has "been filing complaints for civil rights violations against universities that discriminate on the basis of race and sex – for example, establishing all-women or all-minority scholarships or programs – because doing so, even if it's for fashionable reasons, is against the law," Reynolds wrote.
Reynolds, in his interview with The College Fix, said he sees his Substack as a way to dive deeper.
"I won't say it's great to not have an editor, most of the time they make your work better," he said. "It's more a matter of not having to write for a corporate pigeonhole."
In addition to being a prolific writer, Reynolds is a 30-year veteran of the University of Tennessee College of Law, specializing in constitutional and administrative law as well as space law and the niche topic: the law of distilled spirits.
As a professor he has seen first-hand the downward trajectory of higher education, yet he told The Fix all is not lost; that's because, as the old saying goes, "the prospect of hanging concentrates a man's mind wonderfully."
In other words, said Reynolds, author of the 2012 book "The Higher Education Bubble," colleges and universities are seeing declining enrollment, a growing awareness among Americans that the return on investment falls short, and an increasing level of oversight among lawmakers hearing from angry constituents.
"Higher ed has figured out that the gravy train is over in several ways," he said.
All that has prompted a burgeoning awareness among campus leaders, he said; they're "rising out of their cluelessness." What's more, it seems some administrators have begun to realize there are marketing positives "to being seen as less woke" than peer institutions.
"One of the things that the right has done is point out the bias, and keep flogging the fact that everything leans left and they demonize people who disagree with them," he said. "All of that is true and it's worth pointing out, and once a critical of mass of people realize it, we are seeing people do something about it."
He cited anti-critical race theory legislation popping up across the country as well as Florida Gov. Ron DeSantis' campaign against DEI in his state's college and universities,
"You see serious pushback. I think that will spread," Reynolds said. "Things can change faster than you think."
MORE: Five fresh ideas to fix higher ed from the Academic Freedom Conference
Like The College Fix on Facebook / Follow us on Twitter