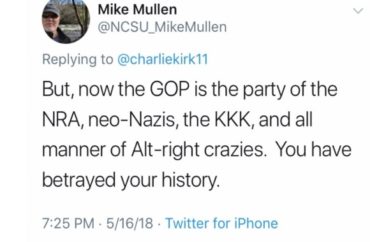 North Carolina State University's Vice Chancellor and Dean for Academic and Student Affairs, Mike Mullen, resigned from his post Thursday after receiving criticism for his comments on Twitter that frequently attacked Republicans.
In particular, Mullen stepped down shortly after a student contributor to The College Fix wrote an op-ed criticizing the official for his repeated attacks on the GOP on his Twitter account, which before it was deactivated last week touted his leadership role at NC State.
"The announcement Thursday didn't say why Mullen resigned. But it came hours after an N.C. State student who has been active in conservative politics wrote that Mullen's tweets made him and other conservative students feel alienated," reports the Raleigh News & Observer. "… Mullen, who earns an annual salary of $283,206, is a professor in the university's crop sciences department in addition to his job as a dean and vice chancellor."
The Observer refers to student and Republican activist Luke Stancil's op-ed in The College Fix, which stated in part: "I believe in the First Amendment, however Mullen's job is to lead and represent all students. It's hypocritical for him to preach for an inclusive environment and also to effectively call students who are Republicans neo-Nazis and members of the klan."
Among Mullen's tweets over the last year: "Sitting in the Renaissance lounge, working, listening to three redneck businessmen discussing democratic mobs and violence. Lots of coded language. #bloodboiling." He's also called the GOP the party of "neo-Nazis, the KKK, and all manner of all alt-right crazies." He has also tweeted that the Second Amendment should be nullified by executive order to get "guns off the streets" and "throw out the constitution." And he suggested Trump is a "racist" who uses "hate language" and blamed him for violence.
Last fall, his tweets drew criticism in the pages of the campus newspaper The Technician. The NC State College Republicans have also called for Mullen's resignation.
MORE: Men 'don't deserve opinions,' tweeted new director of gender relations
Like The College Fix on Facebook / Follow us on Twitter