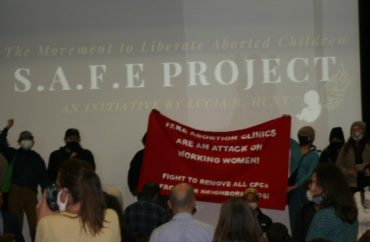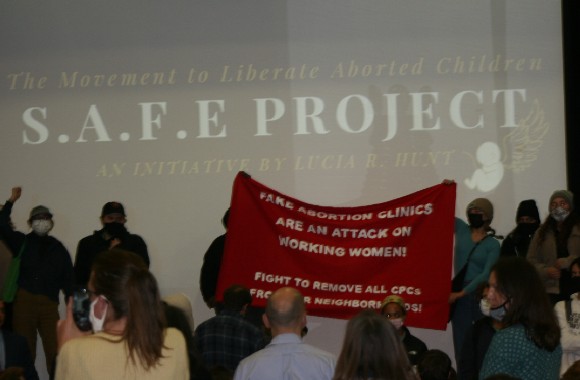 Investigation underway to find culprits
University of Pittsburgh officials are looking for a group of abortion activists who crashed a conference on fetal tissue research held by a pro-life student group. The investigation is still ongoing as of November 24.
"We are aware of this incident," a spokesperson for Pitt told The College Fix on November 14. "At the time of this incident Pitt police were requested on scene, although the disrupting party left the event prior to police arrival."
The same spokesperson told The Fix there were no further updates as of November 18.
"We are committed to providing open dialogue and free speech opportunities at the University as well as opportunities for peaceful protests," the spokesperson told The Fix on November 14.
"The actions portrayed by protestors in the video do not align with our guidelines and policies for on-campus demonstrations. We are looking into identifying the disruptive individuals for next steps via the student code of conduct or referral to the Pitt Police," the spokesperson said.
The Fix shared videos taken at the November 8 event on the university's campus in its O'Hara Student Center. Franciscan University of Steubenville student Lucia Hunt hosted a conference about fetal tissue trafficking as part of her fellowship with Students for Life of America.
During the event, 15 to 20 individuals, believed to be Pitt students because they would need university IDs to enter, took over the stage interrupting the presentation with banners and loud chanting, and refusing to let the event continue.
They tore up the speaker's notes and event programs and ripped the microphone out of the presenter's hands after she asked them to leave.
'We demand justice' students chant
The event included Franciscan University Professor Patrick Lee, Justin Butterfield, a former Health and Human Services advisor on religious freedom, and Tina Whittington, an executive with SFLA.
It was during the presentation from Butterfield that the abortion activists stood up in unison and marched to the front of the stage, holding banners with pro-abortion messaging and chanting phrases such as "Working women give them Hell, it is right to rebel!", "We demand justice!", and "Abortion is healthcare!"
At this point, Hunt, the student organizer, confronted the students and asked what they were trying to accomplish.
"They weren't protesting anything that had to do with the conference," the Steubenville freshman told The Fix during an in-person interview. "I demand justice for unborn babies," Hunt told them, in response to the activists' chants for justice.
"At this point, they started to get more violent, so as a last resort, I did the one and only thing I know how to do great, which is pray," she said.
"I grabbed a microphone and I prayed a Hail Mary and a Saint Michael [the Archangel] prayer twice and God really used His power through those prayers and they ended up leaving after that," Hunt said.
"My prayers are with them, but I am going to keep fighting for the unborn," Hunt told The College Fix. "Those protestors don't need to face charges, but what they do need to face is a divine revelation that what they're standing for is wrong."
When asked what she would say to young people, like herself, who want to get involved in the pro-life movement but are afraid of backlash, Hunt said that these students should "understand first of all that God is with them."
"Knowing that the Lord is with you as you fight that battle should be enough to comfort you," she said.
"But not everyone is pro-life," she said, "so I would add that you should educate yourself on why exactly you are pro-life so that you have that fire lit beneath your feet, because when you have that fire and you have that passion to fall back on, that is what is going to propel you forward as a pro-life person."
MORE: Catholic university investigates pro-life group without showing them complaints
IMAGE: The College Fix
Editor's note: The author is an intern with Students for Life of America
Like The College Fix on Facebook / Follow us on Twitter