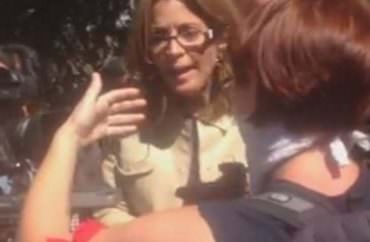 BERKELEY, Calif. — Several far-left demonstrators at UC Berkeley harassed and blocked several reporters and observers at a Berkeley Rally Against White Supremacy on campus Monday afternoon, video taken by a College Fix reporter shows.
Organizers asked the crowd at the beginning of the rally to seek permission before taking photographs at the event, hosted on the public university's Crescent Lawn. Then several demonstrators clashed with members of the media during the event.
One demonstrator, who had her face partly covered, blocked local television station ABC7 News from filming speakers while another agitator threatened to "get a cop" if a cameraman from VICE News didn't show his press identification.
Meanwhile, a group of demonstrators locked arms and created a blockade to prevent a reporter from the far-right news website Infowars from getting close to the speakers.
Far left "United Against Right Wing Violence" try to stop right wing media from covering rally. UARWV was doing it to mainstream media too. pic.twitter.com/0fNBaymVEz

— Lyanne Melendez (@LyanneMelendez) September 25, 2017
At one point, the event's emcee alerted the crowd that conservative media was in attendance and asked people not to speak with such news outlets.
"Out, out, out. Bigot, bigot, bigot," the crowd chanted at the end of her announcement.
Asked about the protesters' treatment toward some members of the press, UC Berkeley spokesman Dan Mogulof told The College Fix that the university respects the freedom of the press.
"We believe a free press is absolutely essential to the effective working of a democracy. We believe that reporters must be allowed to do their jobs unimpeded," he said.
The rally took place one day after anti-feminist provocateur Milo Yiannopoulos made a brief appearance at UC Berkeley.
Yiannopoulos was slated to appear at the Berkeley campus this week along with other conservative speakers, including Ann Coulter and former White House Chief Strategist Steve Bannon, during a four-day event titled "Free Speech Week." The Berkeley Patriot, the event's host, cancelled the festivities at the last minute, but Yiannopoulos still appeared at the university for about 15 minutes on Sunday.
At the Berkeley Rally Against White Supremacy, African American Studies Professor Michael Cohen had a message for Yiannopoulos: "Fuck you." During his brief remarks, Cohen also bragged that left-wing protesters pushed Yiannopoulos out of the UC Berkeley campus.
"So let me just say: Fuck you Milo, good riddance, never come back," the professor said.
Other speakers at the event railed against UC Berkeley for allowing "systemic and structural racism to flourish" and said people must take a stand against "toxic ideas" and white nationalism.
Attempts to film the speakers drew the aggressions of the alt-left crowd.
"Milo, Coulter, Bannon, that entire grotesque crew is not welcome in the bay," Professor Cohen said to a group of about a couple hundred people. "They are not welcome at the University of California at Berkeley and it is a tragedy, a humiliation, that these fools and imbeciles managed to squeeze as much money out of this institution to protect their arrogant stupidity."
Cohen said those gathered at Monday's rally were "the people that drove Milo out for a second time now," referring to the cancellation of Free Speech Week as well as riots that prevented Yiannopoulos from speaking on campus in February.
The professor asserted that left-wing activists must stand up against fascists who are targeting the UC Berkeley campus "to destroy us and public higher education in general." In the lead up to the highly anticipated Free Speech Week, Cohen was among a group of professors who penned an open letter calling for a campus boycott because of the scheduled "alt-right events."
Regarding Cohen's profanity-laced comment made toward Yiannopoulos, Mogulof said in an email to The College Fix it's up to professors to do what they want in their own time.
"In that context, what they say must not be mistaken as indicative of the University's beliefs, perspectives or positions," Mogulof said.
Following the conclusion of the events at the Crescent Lawn, demonstrators marched through campus and chanted "whose university? our university" at times along with other mantras. As the group progressed through campus, a group of marchers locked arms forming a blockade to keep police officers, who were trailing the marchers, further back from the throng of demonstrators.
The march ended at Wheeler Hall with demonstrators attempting to occupy the campus building in protest of the "militarization of campus." However, the building's fire alarm went off shortly after the left-wing demonstrators arrived and the facility was shut down for about an hour.
MORE: Milo Yiannopoulos shouted down at UC Berkeley
Like The College Fix on Facebook / Follow us on Twitter