Exclusive College Fix videos show students questioned over fake machete
FAIRFAX, Va. — Move over cultural appropriation — now one apparently can't even walk across campus to a Halloween party dressed as Friday the 13th's "Jason Voorhees" without having the cops called on them.
Two George Mason University students late Tuesday night were questioned by campus police after someone called to report one of the students for his fake machete prop accompanying his Friday the 13th Halloween costume.
The GMU police department dispatched a total of three officers to the scene to investigate the costume prop.
Jawad Nahian wore a costume inspired by "Jason Voorhees" from the popular Halloween movie series Friday the 13th and his friend Akshay Chitre wore a "Robin Hood" costume.
The two were questioned by police after someone on the northern Virginia campus called the Voorhees costume prop in as a possible safety threat as the two students headed to a Halloween party on campus.
It's unclear if a student called it in, but the two students had been traversing an area of campus flanked by dorms on their way to the costume party, an annual event co-hosted by the university's Housing and Residential Life department.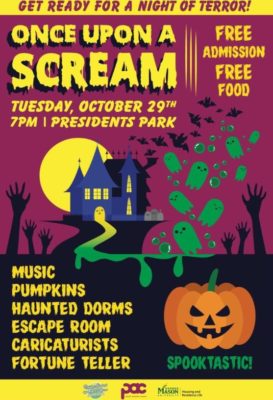 Chitre and Nahian were behind Research Hall headed to "Once Upon a Scream" at President's Park when they were intercepted by the officers. The College Fix was also on scene as the two were asked for photo ID and questioned.
Chitre told The College Fix it's just a "fake plastic sword."
"I kinda just want to get to the party, and it's a prop," Nahian added.
But the duo, although appearing slightly frustrated, also appear to take it in stride.
"Some guy or girl decided to report us, for wearing halloween costumes. Who carries a real machete? … I mean, c'mon people," Nahian said. "Some people probably don't even know what Halloween is."
One of the responding officers, Sergeant Donald Daniels, asked the two after inspecting the prop machete: "Do you see why this might be a problem right now?"
The students replied that while some might think it's real, the officer is now aware it is not.
Sgt. Daniels, sounding sympathetic, advises the students that "in this day and age the best thing to do would be to like put this stuff in a bag … and then put it on when you get to the party, so you are not just walking around. … I understand it's Halloween, guys. But we live in a society now where stuff like this …"
The officer told the students they could unveil the prop when they get to the party, but to keep it covered in a bag of some sort when they head to and from the party.
In an interview with The College Fix, Daniels explained "we live in a day and age where this stuff gets called in and we have to take it seriously because it could be real. And that is why we are here, to protect the public."
"Do I find it ridiculous? Yeah, kind of. But I still have to come out and believe that it's real until I determine that it's not."
He said he's also compelled to do something, even if the sword is plastic, or some community members may still keep calling it in.
"I understand that it's Halloween, I like Halloween," he said. "… But in today's society we have to treat everything like it's real until we decide that it's not real. And we try to make as many accommodations as we can."
Eric Fowler, a spokesman for the university, told The College Fix "police responded to an incident, they had to check it out, and that's it."
He directed The College Fix to a Virginia state law, which prohibits people over the age of 16 from wearing of masks. Notably the law has a provision which states "the provisions of this section shall not apply to persons (i) wearing traditional holiday costumes."
When asked about the provisions, Fowler stated that it's up for "debate."
MORE: University threatens to investigate Halloween parties that 'reinforce stereotypes'
Like The College Fix on Facebook / Follow us on Twitter