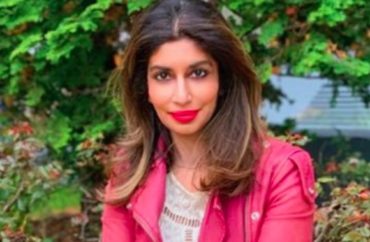 The psychiatrist who gave a lecture to Yale medical students titled "The Psychopathic Problem of the White Mind" this week doubled down on some of the controversial comments she made at that event.
At the April 6 talk, Forensic Psychiatrist Aruna Khilanani said that she fantasizes about killing white people and feels "relatively guiltless" about it.
She added that "there are no good" white people, that whites "make her blood boil," and that years ago she eschewed just about all of her white friends.
"White people are out of their minds and they have been for a long time," Khilanani said. "We are asking a demented, violent predator who thinks that they are a saint or a superhero, to accept responsibility. It ain't gonna happen."
In a clip posted Thursday by Temple University's Marc Lamont Hill, Khilanani reiterated this very contention. Hill asks her "Would it be fair, based on your expertise, to say that white people are psychopathic?"
"I think — I think so, yeah," Khilanani replies. "I mean, I think there's many lies that … the way, the level of lying that white people do … started since colonialism, we're just used to it."
When Hill asks about the lies to which she's referring, Khilanani says "You … you steal a country, you loot, you say that you've 'discovered' something … this level of lies is actually part of history. We don't say that we killed all these people, we got rid of all the Native Americans … we say we 'discovered' America.
MORE: Students march in support of Temple's embattled Marc Lamont Hill
"You don't talk about the level of death. You don't talk about the level of what actually occurred. You wipe the slate clean, you sanitize the violence, and you actually got lost along the way (you were trying to go to India) and then you say you 'discovered' something."
Khilanani then says white people claim they've "discovered" everything — vegetarianism, yoga, for example — but it's "all actually stolen."
In the full video, Khilanani tells Hill her goal was to "access unconscious negative feelings and ideas" in her talk. Thus, she notes that "of course [she] doesn't want to kill white people" (a claim she calls "completely ludicrous").
However (her emphasis), she says white people feel like they're "getting murdered" by her words because these words "are troubling" — her words "cause the death of [whites'] preferred self image."
Khilanani tells Hill the level of detail in which she described her desire to kill whites was just a "metaphor" for the "level of frustration" and "futility" regarding the inability to "move further in a conversation [about race]."
Seemingly forgetting about the era in which we now live, she believes her comments were "flagged" because they involved race.
Khilanani concludes by noting the controversy hasn't been easy for her (she became the "target" for "every conservative dart board," according to Hill), and she reminds viewers that her lecture was for a "certain group of people" — those who "want to understand and are ready to hear about their own violence."
MORE: Lecturer tells Yale medical students she fantasizes about killing white people
IMAGE: NY Post / Twitter screencap
Like The College Fix on Facebook / Follow us on Twitter