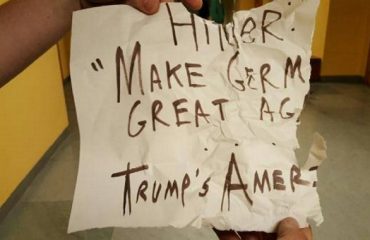 ANN ARBOR, Mich. — A group of protesters stormed into a presidential debate viewing party hosted by conservative students at the University of Michigan on Monday night, banging on drums and shouting at viewers as they paraded around the room, prompting at least one skirmish.
The five anti-Trump protesters who invaded the campus auditorium where the debate was projected onto a large, movie-sized screen repeatedly shouted "Donald Trump is racist!" while one, dressed as Jesus, banged incessantly on some type of drum. The demonstrators' organizational affiliation is unknown.
According to a video taken during the incident, one of the female protesters held a sign stating: "Hitler: Make Germany great again, Trump's America."
A male student with a red "Make America Great Again" cap in a light blue shirt can then be seen wrestling the sign away from the female, and they engaged in a brief but aggressive struggle over it. The male student eventually took the sign and crumpled it up, the video shows.
Watch the video:
The viewing party was co-hosted by the Young Americans for Freedom at the University of Michigan in partnership with Fox News and the Michigan Review.
Organizers told The College Fix they do not know who the male student in the video is, that he is not affiliated with YAF or the Review.
But the viewing party had been widely advertised, and drew some 230 students.
Student co-organizer Grant Strobl, in a statement Monday to The College Fix, said audience members had a variety of viewpoints on the candidates, and it was unfortunate protesters interrupted a "bipartisan event."
"I think it is important to protect the freedom of speech of the protestors, and I encourage them to protest outside of the event so that students can exercise their freedom to listen to the debate," he said.
Responding to allegations that the male who ripped up the anti-Trump sign was roughed up outside the venue after the event, Strobl added: "I don't know the full details of the fighting outside of the event, but it is dangerous when difference in opinion translates into assault. However, all of the attendees of our event were respectful and engaged."
The male student is reportedly OK.
MORE: College students who openly support Trump censored, threatened, bullied by professors, peers
Like The College Fix on Facebook / Follow us on Twitter