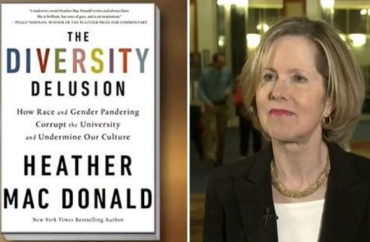 'My oppression is not a delusion' demonstrators repeatedly yelled
Student protestors at College of the Holy Cross recently blocked access for many hoping to hear a speech by conservative scholar Heather Mac Donald by getting in line early, filling the venue to capacity so others waiting to get in were turned away, then filed out 10 minutes into the speech while chanting over and over "my oppression is not a delusion."
Audio and video obtained by The College Fix shows the demonstrators chant for nearly two minutes as they left, yelling: "My oppression is not a delusion!" "Your sexism is not welcome!" "Your racism is not welcome!" "Your homophobia is not welcome!" "YOU are not welcome!"
As they exited, Mac Donald spoke to them about the abundant resources offered at the private, Worcester, Massachusetts-based Jesuit institution, which charges $54,000 a year in tuition. But they just kept repeating their chants as they filed out the door.
"Either you talk and try to hash out your differences using the power of human rationality or force is what remains. It's a shame," Mac Donald told the remaining audience members. "I would have really enjoyed the opportunity to hear about the oppression at Holy Cross and be able to debate whether the perception or impression is valid or not."
The Nov. 18 event was sponsored by The Fenwick Review, an independent, right-of-center student publication that's part of the Intercollegiate Studies Institute's Collegiate Network.
The college's mainstream student newspaper, The Spire, reported that "doors opened an hour early for the event in order to accommodate high demand for seats. Students who planned to participate in the protest showed up as early as possible, with times being communicated through a GroupMe group chat established by the Black Student Union. As a result, a wide majority of the seats were taken by student planning on walking out."
"Eventually, public safety officers on site shut the doors due to capacity limits set by the fire department. Chief of Public Safety Shawn DeJong, along with other officers, stood in the doorway, turning away anyone else who tried to enter," The Spire reported.
Andrew Buck, a staff writer for The Fenwick Review, said the most frustrating aspect of the protest was that demonstrators took away the opportunity for others who wanted to hear Mac Donald's speech.
"It's disrespectful," he told The College Fix in a telephone interview Saturday. "Students who wanted to listen to her had their seats taken up by these protestors. … There was also word that some of the people waiting outside were told Heather left. … It's just a disappointment. Nothing that Heather said in her talk was that extreme."
Buck said the Review invited her because its writers wanted to offer a conservative voice on a campus dominated by left-leaning ones, but at Holy Cross "there is this idea that anything different must be kicked out or shut down."
One student who took part in the protest, Johanna Mackin, in an open letter published by The Spire, stated that in "denying the persistent and pervasive inequality between races, sexes, and those of differing sexual orientation, Ms. Mac Donald is not just denying her privilege, she is abusing it."
"… if The Fenwick Review's goal really is to promote academic freedom and constructive dialogue, next time they invite a speaker to campus, they could at least choose someone whose argument is not premised on the denial of truth. Diversity is not the delusion, Ms. Mac Donald, equality is."
The incident at Holy Cross marked the second time in the last few weeks that Mac Donald's presence has caused a stir on campus. In mid-November at Bucknell University, her speech prompted vandalism, fiery op-eds in the campus newspaper, a picket line, a counter-protest event, and discussions of blacklisting independent-minded students and scholars.
Asked to weigh in, Mac Donald told The College Fix in an email Sunday that "the hysteria that routinely breaks out on college campuses in the presence of ideas that challenge the reigning orthodoxy is an ominous sign for society."
"Students are taking their brittle victim identities with them after they graduate and putting a whole set of explanations for the world off limits," Mac Donald said. "Any student who thinks of himself as oppressed on an American college campus is in the grip of a terrible delusion that will encumber him for the rest of his life; that delusion is now fast dismantling color-blind standards of achievement in the non-academic world, endangering America's competitive edge."
MORE: Angry mob shuts down Heather Mac Donald speech at Claremont McKenna
Like The College Fix on Facebook / Follow us on Twitter