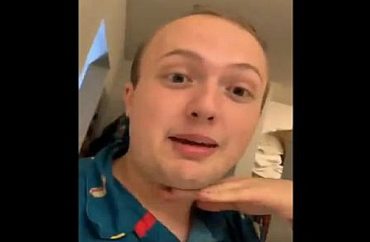 The former president of the Sacramento State University College Republicans was assaulted Friday by a progressive student with whom he had an argument online.
According to The Sacramento Bee, Keaton Hill, apparently still angry from a Facebook dispute about abortion the evening before, uttered "f*** you" to the CR's Floyd Johnson as he exited class Friday morning.
In that social media debate, Hill allegedly had told Johnson to "say whatever he had to say face-to-face."
When Johnson and friend Henry Seufert went to confront Hill about what he had just said, the latter erupted in anger, accusing Johnson of harassment and slapping at him a few times. In video of the confrontation, Hill tells Johnson "You're gonna end up fucking dead!"
The scuffle "caught the attention of far-right activists" on the 'net, The Bee wrote.
This deranged leftist and LGBT activist named Keaton Hill assaulted and threatened to kill @FJtheDeuce, a black conservative at Sacramento State. This is reportedly the 2nd time Keaton has violently attacked college Republicans at @sacstate. pic.twitter.com/7MtvF5IqCe

— Kaitlin Bennett (@KaitMarieox) December 6, 2019
Johnson filed a police report with the Sacramento State Police. Charges are pending against Hill.
"I didn't choose to fight back because I'm 6-foot-5 and he's 5-foot-6 or 5-foot-7 or something. It really would have been unfair," Johnson said by phone. "And anyway, the way he was hitting me was open-handed. If he was connecting and actually hurting me, then I would have engaged with him, but in that moment I was more focused on videoing the incident and recording what was going on." …

Hill and Johnson were also involved in an altercation last year at a College Republicans event in response to the Stephon Clark shooting. In a video, Hill tried to slap the person recording a video and called him a homophobic slur while Johnson attempted to restrain an incensed student.

Sacramento State president Robert Nelsen responded to the incident on the university's Facebook page, saying it "in no way reflects Sacramento State's values" and that "everyone deserves to feel safe and secure in expressing their identity and beliefs."

"I am deeply disturbed and appalled to learn that there was a fistfight on campus today between two students," Nelsen's statement said. "We are investigating the situation, but I want to make it unequivocally clear that violence is never the answer."
Hill made a video of his own in response to Kaitlin Bennett's tweet and video of the incident. Bennett is a "conservative personality known as 'Gun Girl,'" according to The Bee.
— Kaitlin Bennett (@KaitMarieox) December 7, 2019
In the student newspaper The State Hornet, Hill apologized for "lunging at Floyd's phone," but added it wasn't "without provocation."
Both Hill and Johnson filed complaints with the Sacramento State U. Office of Student Conduct, according to the article.
Read The Bee and State Hornet articles.
MORE: CRs president hit in face for holding 'All Lives Matter' sign
MORE: Frenzied mob attacks conservative students, destroys their display
IMAGE: Twitter
Like The College Fix on Facebook / Follow us on Twitter