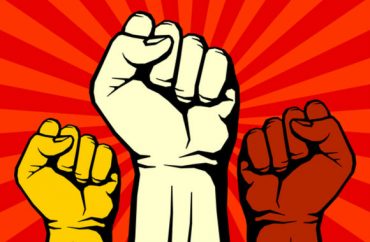 No sanctions for two protesters who are student government officials
What is it with leftist activists seeing libraries as places to scream and threaten other students?
The College Republicans at the University of California-Santa Cruz faced a two-hour siege by protesters who said their very act of meeting quietly in the McHenry Library was "violent racist activity."
To their credit, the CRs never fought back or screamed, and didn't even call the police. That was a call made by school officials when it became clear the CRs were staying put and the protesters wouldn't stop menacing them, according to Campus Reform.
Three protesters were quickly arrested when cops showed up.
Ringleader Haik Adamian put out the call on a student Facebook group to crash the Sunday night meeting of "white supremacist, fascist sympathizing" CRs, using scare quotes to say they should not have the "right of assembly" or "right of free speech" at a public university:
Heeding Adamian's call, student activists disrupted the meeting by banging open the door to the meeting space and shouting accusations that the members were "fascists," "racists," and "white supremacists." …

The commotion culminated in one of the student activists running out into the main library area screaming that there were "Nazis downstairs," but while the gimmick drew several spectators, many of them expressed indignation at the actions of the protestors.
Two of the protesters were officers in the Student Union Assembly, but they won't face sanctions from their body for their disruption and threats against fellow students:
"When the protesters came in, we all just wanted to talk with them. We didn't want there to be any trouble, and since we enjoy debate, they would've been welcome to talk," CR President Brandon Lang told Campus Reform …

Lang isn't terribly bothered by the incident, though, noting that "all of the people who came down to see what was going on … ended up siding with us because it was immediately obvious that what they heard was inaccurate" …
In a statement, the CRs said they are composed of "a wide coalition of students from a variety of diverse backgrounds and viewpoints" and they "actively seek people that counter our views and invite them to participate in our group," including for their meeting at 8 p.m. tonight:
Last Sunday, our meeting in Mchenry Library was interrupted by student activists who banged open the door and started screaming at the top of their lungs and demanding we leave the space immediately. They called our meeting "a threat to the library." We invited the activists to stay and discuss ideas. However, any attempt at civil communication was met with the response, "Dialogue is violence." … Anyone that didn't explicitly join them in their mission of screaming in the library became a "white supremacist," including the many people of color not only in our group but who were watching the incident. Eventually, three activists were arrested by UCPD for disturbing the peace. We did not call the police. The decision to involve UCPD was made by school officials.
The CRs said the protesters turned their ire at one point on library staff – calling one a "white supremacist" – because they refused to eject the CRs, though staff did ask the CRs if they would consider leaving so the protesters would leave too:
We would like to express our gratitude to the UCSC student body. Nearly every student who came to observe the interaction between the protesters and us showed basic solidarity for our rights to speak, assemble, and hold different opinions. Especially those on the opposite end of the political spectrum, who came to our defense when we needed them most. We are so proud to share this campus with such wonderful, brave, and open-minded people.
The statement was posted on the UC-Santa Cruz Facebook page for student publication City on a Phil, which is run by self-described Democrat Phil Leonard Vogel.
MORE: Black Lives Matter protest terrorizes Dartmouth students trying to study
Vogel, who was at the meeting, posted a video that shows the protesters in the meeting room during one of the more sedate stretches of the drawn-out siege. He said he has less flattering footage:
I am releasing this clip in particular because of its length and clarity. In this video, you can hear both sides clearly articulate their grievances. I have a lot more sensational footage of the protestors being arrested and yelling at police. I don't feel comfortable releasing that at this time. … I would much rather come to a mutual understanding with these people, rather than spread videos of them interacting with police, or being led away in handcuffs. …

The protesters who interrupted our meeting made it clear that they see everybody in that room (regardless of their viewpoints or ideologies) as defective people, who have no right to an opinion, or to assemble.
Stanley Kurtz at National Review writes that the incident bears resemblance to a student stealing a peer's "Make America Great Hat" at UC-Riverside:
This incident is another warning that shout-downs are threatening to morph into generalized warfare. I mean that only partly metaphorically. How long before student groups, nose-to-nose in confrontation, resort to violence? …

Part of what we're seeing at UC Riverside and Santa Cruz is the fruit of the new system of "bias reporting." …

Bias response teams call on students to "report hate" to administrators, who promise to snuff it out. The Riverside hat-thief and the Santa Cruz meeting disruptors reported what they saw as hate (i.e. Republicans) to administrators, fully expecting campus officials to punish and silence those Republicans. And both the hat-thief and the UC Santa Cruz disruptors openly scorned free speech. This is what the new campus regime of "bias response teams" has created. Much of what student disruptors demand nowadays is an extension of this ideological policing to every facet of university life.
Read Campus Reform, City on a Phil and Kurtz's article.
MORE: Student swipes MAGA hat: 'f*ck your freedom of speech, boy'
IMAGE: MicroOne/Shutterstock
Like The College Fix on Facebook / Follow us on Twitter