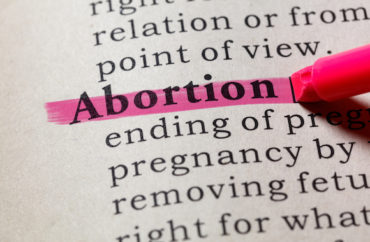 Organization in favor of failed third-trimester abortion bill
An abortion rights group at a public university has voiced support for the broad legalization of late-term abortion, backing a currently stalled effort in the Virginia legislature to permit abortion up to the ninth month of pregnancy for virtually any reason.
Virginia state delegate Kathy Tran generated controversy late last month when she proposed a bill meant to legalize more late-term abortions. Virginia law currently allows third-trimester abortions when there is a "substantial and irremediable" threat to the mother and three physicians agree these conditions are met.
Tran's bill would have lessened restrictions to allow third-trimester abortions when the mother's mental health was purportedly threatened by the pregnancy; the law would have also removed the "substantial and irredeemable" qualification, and would have allowed only one physician to sign off on the procedure.
In a widely-circulated video, Tran admitted that the bill would allow abortions even when the mother was in labor. The bill ultimately failed to pass. Tran later said she "misspoke" and that her bill would not allow such abortions, though she didn't clarify how the text of the law would actually prohibit them.
Student pro-choice group supports measure
The College Fix sought out pro-choice groups at Virginia campuses to see how they viewed the bill. Reached via email, a representative of Planned Parenthood Generation Action at Virginia Tech University voiced support for the failed bill and its aims, stating that it would have removed restrictions that are "completely unnecessary."
"We support the Virginia bill that would repeal medically unnecessary restrictions for women seeking access to safe and legal abortion," Taylor Anderson, the president of the organization, told The Fix.
"Let's get the record straight. There is no such thing as an abortion up until birth. The idea that these bills somehow allow a woman to have an abortion up to or as a woman gives birth is flat-out untrue. It's simply not how medical care works, and it's frankly irresponsible to imply that it is," Anderson said. Anderson did not comment on Tran's initial affirmation that the bill would indeed allow abortion during labor.
"The vast majority of abortions occur very early in a woman's pregnancy. When they do occur later, they are almost exclusively because a woman's health is at risk, a woman's life is at risk, or because her baby cannot survive," Anderson said.
A 2013 study from the Guttmacher Institute, a pro-choice organization, indicated that most women seek late-term abortions for reasons other than health risks or fetal deformities. According to the study, among the most common reasons women seek late-term abortions include "disagreeing about the abortion with the man involved," "trouble deciding about the abortion," "raising money for procedure and related costs," and "not knowing where to go for an abortion."
Negative reaction against Tran's bill was widespread. Students for Life of America, a national pro-life organization headquartered in Virginia, recently launched a sister organization called Students for Life Action in response to the bill. The new organization was created to "energize pro-life voters nationwide" and to help the pro-life movement "get ready for the day after Roe."
"In our recent poll of Millennials, Students for Life of America showed that only 7% of Millennials agreed with the Democratic Party Platform on abortion which supports the horrifying procedure through all 9 months of pregnancy," the organization stated at its launch.
"Abortion moments before birth, virtual infanticide, is not only inhumane, it is rejected by the vast majority of Americans."
Following the launch, Students for Life of America announced multiple protest events in Virginia, including a rally outside a town hall meeting hosted by Delegate Kathy Tran. The rally resulted in the cancellation of one of Tran's town hall meetings for security concerns, though at the time Tran's office didn't specify what the security threat consisted of.
MORE: Pro-choice group hopes to make abortion 'positive'
MORE: Pro-abortion professor won't say if unborn humans are human
IMAGE: Feng Yu / Shutterstock.com
Like The College Fix on Facebook / Follow us on Twitter