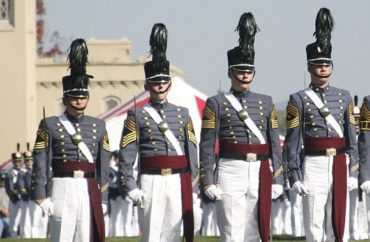 VMI's leadership on controversial figures is a good model for other schools
The Virginia Military Institute recently announced that it will not remove Confederate statues on campus nor will it rename buildings.
With its decision, the institute exemplifies what universities should do when confronted with calls for renaming buildings and removing statues; acknowledge both the good and bad in people, and use their history to show how progress happens.
In a seven-page letter to the university community on July 29, the school's superintendent J.H. Binford Peay described new plans and the university's strategic vision. In his letter, he specifically addressed the renaming of buildings and the removal of statues at the public military college in Lexington, Virginia.
After he noted that the university previously made changes, such as no longer saluting the statues of Stonewall Jackson, a former VMI professor, and General Robert E. Lee, Peay explained the school's position:
We do not currently intend to remove any VMI statues or rename any VMI buildings. Rather, in the future we will emphasize recognition of leaders from the Institute's second century. We will place unvarnished context on the value and lessons to be learned from the Institute's rich heritage, while being mindful of the nation's challenges and sensitivities to being fair and inclusive to all.
This is the right way to move forward when confronted with the complicated racial legacies of historical figures.
First, VMI is right to leave the statues up and not to rename buildings, not necessarily because Stonewall Jackson has an inalienable right to have a building named after him, but because he holds an important place in the history of our country. Furthermore, once a university renames one building or removes one statue, the cries for further canceling will only grow.
Just look at how leftists now want statues of Thomas Jefferson and George Washington removed and want to rename schools that bear their names.
MORE: Berkeley to ditch Washington, Jefferson school names
Second, the Virginia Military Institute is right to move on from its past leaders and focus on new leaders. It made the prudent decision to no longer require cadets to salute statues of Confederate military leaders, without discounting their other contributions serving in the United States military.
Finally, it emphasized the value of learning history and placing actions and people in the proper context. It recognizes that people are flawed and good people can do bad things and bad people can do good things.
It's a lesson lost on people like the president of Loyola University-Maryland, who bowed down to social justice warrior demands to rename a building named after author Flannery O'Connor because she, in 1953, did not have the same racial sensibilities as a college student in 2020.
The current debate on the renaming of buildings and the removal of statues sometimes gets caught in a false dichotomy: Someone has to either accept everything a historical figure did or they have to cancel them.
Instead, the Virginia Military Institute correctly chose the better path of reducing the influence and place in school customs of Civil War-era figures while acknowledging the contributions of people like Stonewall Jackson and Robert E. Lee.
Other universities should take note.
MORE: Scholars target 'problematic' common animal names
IMAGE: MGirardi/Wikimedia
Like The College Fix on Facebook / Follow us on Twitter