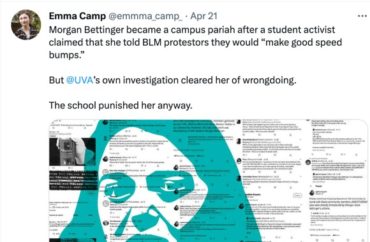 An accusatory tweet in July 2020 triggered a flood of accusations and nearly ended the career of a college senior
A University of Virginia student accused of a cruel remark by one person and a blog post with no corroborating witnesses endured online attacks and official sanctions enforced by her school.
Now she may be preparing to sue.
According to the allegations, a white woman drove up to a Black Women Matter protest in Charlottesville during the summer of 2020 and told the group they would make "good f*cking speed bumps," Reason Assistant Editor Emma Camp reported in an investigation for the June 2023 issue of the magazine.
That woman was later identified as UVA student Morgan Bettinger.
Camp herself was a UVA junior in fall 2020, though she did not know Bettinger or her accuser personally, she wrote.
Bettinger's lawyer released last week a draft lawsuit against the university, which had not yet been filed as of Tuesday, Reason reported.
The suit claims that the university violated Bettinger's First Amendment protections and was guilty of due process violations in penalizing her for the alleged incident.
The story about the alleged remark "was repeated hundreds of times, over group chats and Instagram posts and viral tweets," Camp wrote. "The rumors were given a sheen of legitimacy by local news reporting and were acknowledged by the university administration."
Zyahna Bryant, a fellow UVA student and participant in the Black Women Matter protest, had launched the "good speedbumps" story on Twitter before Bettinger was named as the offender, Camp wrote.
"The woman in this truck approached protesters in #Charlottesville, and told us that we would make 'good speedbumps,'" Bryant wrote on Twitter, according to Camp. "She then called the police and started crying saying we were attacking her."
Bryant also posted videos of Bettinger in her SUV reversing down the street while protesters followed, Camp wrote. The footage captured Bettinger's license plate number.
Bryant's Twitter account now appears to be limited.
Bettinger "reportedly became agitated and told protesters securing the area twice that, 'protesters would make good speed bumps,'" WUVA News stated on July 20, 2020. "The second time she allegedly spoke to a Black protester and clarified, 'good fucking speed bumps.'"
Local news outlet C-VILLE Weekly also reported on the allegation on July 20, 2020, in a story with the headline: "The fight continues: Downtown rally amplifies voices of Black women despite threats." The outlet cited Bryant's tweet and a Medium post from the account Cville Beyond Policing.
Cville [Charlottesville] Beyond Policing had organized the Black Women Matter protest, according to Camp. 
None of the outlets have posted corrections to the articles, still accessible online.
On the basis of these reports and a flood social media posts, Bettinger was "expelled in abeyance — meaning that she was allowed to continue her schooling, but that a second violation of the same standard of conduct would likely result in actual expulsion," Camp wrote.
"The Dean of Students Office conducted a separate investigation into Bettinger's remark and concluded that Bettinger was not an ongoing threat, but still referred charges for 'threatening the protesters' to the University Judiciary Committee," according to a letter by the Foundation for Individual Rights and Expression to UVA in 2021 in defense of Bettinger.
"A [University Judiciary Committee] panel of five undergraduate students found Bettinger responsible and imposed sanctions, which consisted of 50 hours of community service at an approved social justice organization, three hours of remedial education on police-community relations with a specified professor, and an apology letter to the student who criticized Bettinger on Twitter," according to FIRE.
Bettinger eventually graduated, but "with a permanent mark on her record and a destroyed reputation," according to Camp.
Student investigation confirmed Bettinger's version of the story, but she was punished nonetheless
There is "no evidence" beyond the Bryant allegations that Bettinger threatened protesters, Camp wrote. Bettinger herself had denied it.
"A student-run investigation agreed with Bettinger's, not Bryant's, version of what transpired," Camp wrote. "A separate investigation by the school's civil rights office concluded that none of Bryant's allegations had sufficient evidence to support them."
"Bryant's most damning claim—that Bettinger had told protesters they would make 'good fucking speed bumps'—had no corroborating witnesses, even though it allegedly occurred in front of a crowd of more than 30 people," Camp wrote.
Bettinger's own story was that she was driving home from work the evening of July 17, 2020, near downtown Charlottesville, when she saw the road blocked by a dump truck. She parked her car, and the driver "initiated a conversation," Camp wrote.
"At some point during this conversation, Bettinger says, she told the driver something like 'It's a good thing that you are here, because otherwise these people would have been speed bumps,'" according to Camp.
"While [Bettinger] says she doesn't remember her exact words, she maintains that her comment was intended to thank the driver for protecting the protesters," Camp wrote.
Months later, in September 2020, the UVA student jury that sentenced Bettinger to sanctions did not dispute her own version of what happened, according to Camp.
Even more, UVA subsequently "refused to remediate what FIRE [saw] as a violation of Bettinger's First Amendment rights," The College Fix reported in September 2021, shortly after FIRE sent its letter to the university in defense of Bettinger.
"In essence, the UJC jury found that, even if Bettinger was telling the truth about what she said that day, merely uttering the words speed bumps sufficiently near the location of Heather Heyer's death was enough to transform the statement into a true threat," Camp wrote.
"We the judges of this trial panel find that your actions on July 17th were shameful and put members of the community at risk," the jury stated. "You yourself acknowledged saying 'it's a good thing you are here because, otherwise, these people would have been speed bumps.' Given the tragic events of August 12 and the context in which you uttered these words, you disregarded Charlottesville's violent history."
August 12, 2020, was the third anniversary of the Unite the Right rally, a white nationalist rally in Charlottesville, Va., that resulted in three deaths, according to Time. Charlottesville is home to University of Virginia.
White, proudly pro-police, and the daughter of a cop, Morgan Bettinger served as a villain in a time and place that demanded one.
"The story was just too good—so good, that no one stopped to ask if it was even true," Camp tweeted Monday.
MORE: Tweet with care, lest your own words undo you
IMAGE: @emmmma_camp/Twitter screenshot
Like The College Fix on Facebook / Follow us on Twitter